For the Miami Heat, Dwyane Wade is pretty much a legend for both the team and the city. He's – depending on how you count your stats – arguably the third-greatest shooting guard in NBA history. D-Wade was one of the most beloved players in the league during his active days. 
During his active time on the floor, Wade was a key member of some high-powered teams that competed in five NBA Finals, and won three titles. 
Along with Wade, the Heat has also included all-time greats like LeBron James and Shaquille O'Neal on the roster. Wade won championships with both superstars, but the player they called "Flash" has a favorite between them. He's also got a favorite full season team lineup from his time with the Heat between 2006 and 2012 teams. 
Talking on the "LIVE with Kelly and Ryan," morning show, Wade was asked – in a not-so-subtle way – who his favorite teammate was, either Shaq or LeBron James. 
At first Wade tried to deflect the question, but then he offered a good, positive answer: 
"Shaq was a great teammate because I was young and nobody knew who I was. And Shaq grabbed me and was like, 'Yo! Imma make you somebody.' I was already somebody once LeBron came out."
Click here to see the video of the interview.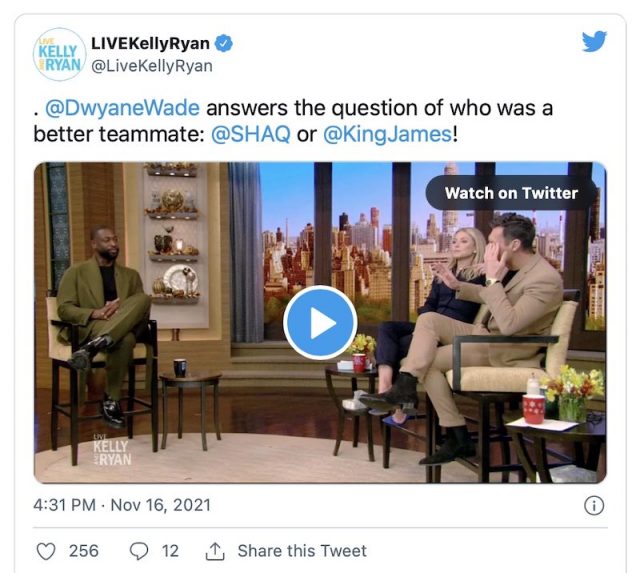 Stats and NBA history show that to be true, and it made for some good NBA history. There's a good storyline that Shaq and Wade really helped each other. O'Neal came from playing alongside Kobe Bryant, and people doubted he could win another title without the late Los Angeles Lakers icon.
Yet O'Neal and the Heat proved themselves just two years after the big man was traded to Miami. The Heat, with Wade and Shaq pairing up nicely, came back from a 2-0 deficit against the Dallas Mavericks to win the 2006 NBA Championship. Wade was also named the Finals MVP. 
When LeBron arrived in Miami in 2010 (along with big man Chris Bosh), Wade was already an established star. He even believed he should have gotten the MVP and DPOY (Defensive Player of the Year) awards in the 2008-09 season.
Once LeBron James arrived in South Beach, Dwyane and Chris Bosh made for quite the power team. With that nice triple threat, the Heat went to four consecutive trips to the Finals, winning the Championship twice. 
Great teammates for sure, Shaq and LeBron. D-Wade just happens to think it was our man Shaq who made the bigger impression on him, in his earlier days in the Association. 
Thanks to our friends at Fadeawayword.com for info and graphic. See the full story by clicking here.