ICYMI – that means "in case you missed it" – there was quite an interesting incident during the NBA game between the Los Angles Lakers and Detroit Pistons recently (as of this writing). 
Quite an altercation broke out between Lakers superstar LeBron James and the Pistons' Isaiah Stewart after LeBron swiped Stewart on his way to the basket, leaving the Pistons player bloodied and mad as a hornet. 
The incident made headlines and the highlight reel of every sports (and some news) broadcasts of the night. Stewart had to be restrained by officials and his teammates after trying to go for James. It wasn't a pretty sight.
On TNT's "Inside the NBA" program reviewing the action, Shaq spoke out in defense of Stewart's actions during the latter's altercation with LeBron James during the Lakers-Pistons game. O'Neal made it clear that he did not believe LeBron was a "dirty" player, as he's had no similar incidents in the past. 
Shaq: "LeBron's been in the league eighteen, seventeen years, he's never been that guy, but Stewart reacted like he was supposed to react. You hit somebody on the face, I want to fight you. Somebody hit you on the face, you either hit him back or act like you want to hit him back."
After the game, the Association announced penalties. James received a one-game suspension while Stewart got two games on the sidelines.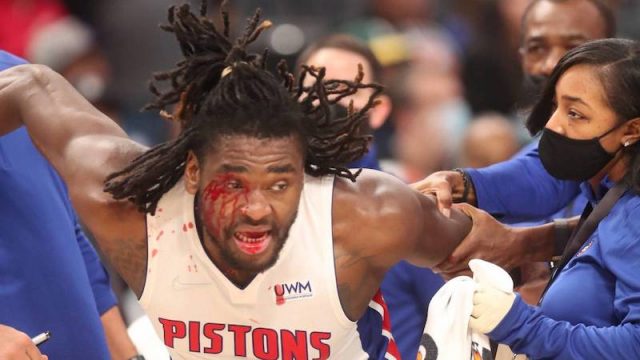 On Inside the NBA, co-panelist Kenny Smith disagreed with Shaq. The Jet said he felt Stewart overreacted towards the situation. Though Smith agreed that the Pistons center wasn't wrong, he questioned the timing of his reaction.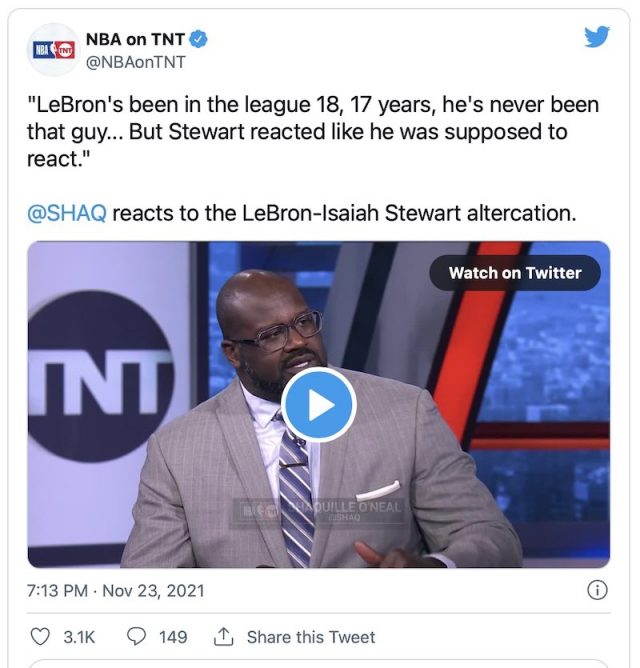 On the show that night, Charles Barkley had the night off. Jamal Crawford was there to fill the slot, and Reggie Miller was also there as a special guest. Miller said getting a bloody face from the run-in with LeBron was no doubt a trigger to the younger Stewart. 
Reggie: "It was the blood. I think that's what triggered him, he's a good kid, he's a hard worker and respects the game. It was once he tasted the blood the dog started to come out of him."
Either way, both players had some time off to consider their actions. Hopefully things will calm and settle before any future rematch of the Lakers and Pistons.