It just wouldn't be Christmas without the annual appearance of the big jolly guy! You might be thinking Santa Claus… we're talking Shaq-a-Claus! This year, the big man and his elves delivered early Christmas gifts early to about 500 students at Wesley Lakes Elementary School in McDonough, GA, near Atlanta.
This marks 24 years (wow!) for the big man doing his charity thing for kids around the country. This time, O'Neal brought toys, clothing, food, bikes, gift cards, even haircuts and more to the kids. 
Thanks to Fox News in Atlanta for info on this story. Shaq told a TV reporter, "Shaq-a-Clause is an event created by Dr. Lucille O'Neal, who happens to be my mother. It started in 1992, and we've been doing it ever since."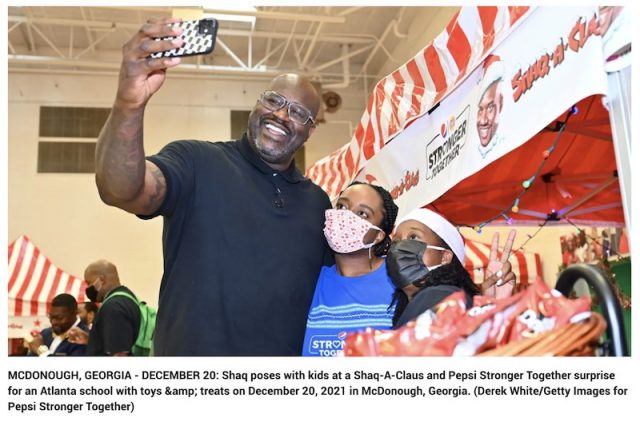 Along the way, Shaq has signed on several corporate partners to help provide Christmas cheer. And he says it's not just about giving away holiday goodies… it can be a chance to talk to young people about creating a better future for themselves, too. "When I talk to the high schoolers, that's the time to deliver messages but the elementary [kids] are little. So, it's just play, play, play, over here. I know how school can be today… [is about] having a good time."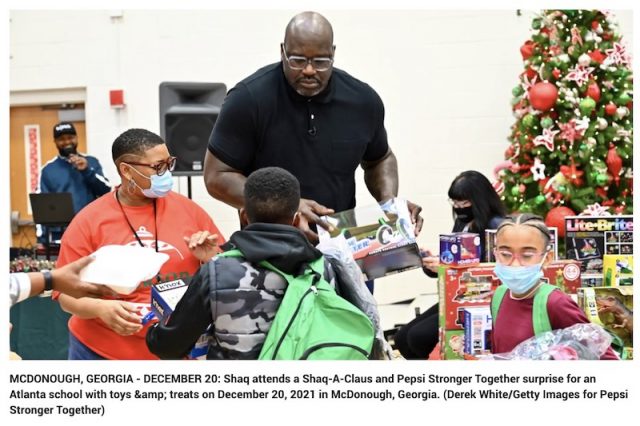 Besides just helping start the tradition, Shaq said his mother has always been his inspiration for his philanthropy. "I used to be a high-level delinquent [and] it wasn't all smiles in my house," O'Neal said. "Once I started playing basketball and becoming more responsible and learned how to be a leader instead of a follower, I would see her smile more. And that's when it became my mission [to make her smile]." 
The 4-time NBA champion went on to purchase a home for his mother and to finance her education, each, as he explained, earned the coveted smile.
Along with the event in Georgia, Shaq's Las Vegas-based foundation now hosts similar Christmas events across the country in places like California, Louisiana, and New Jersey, Boston and Vegas.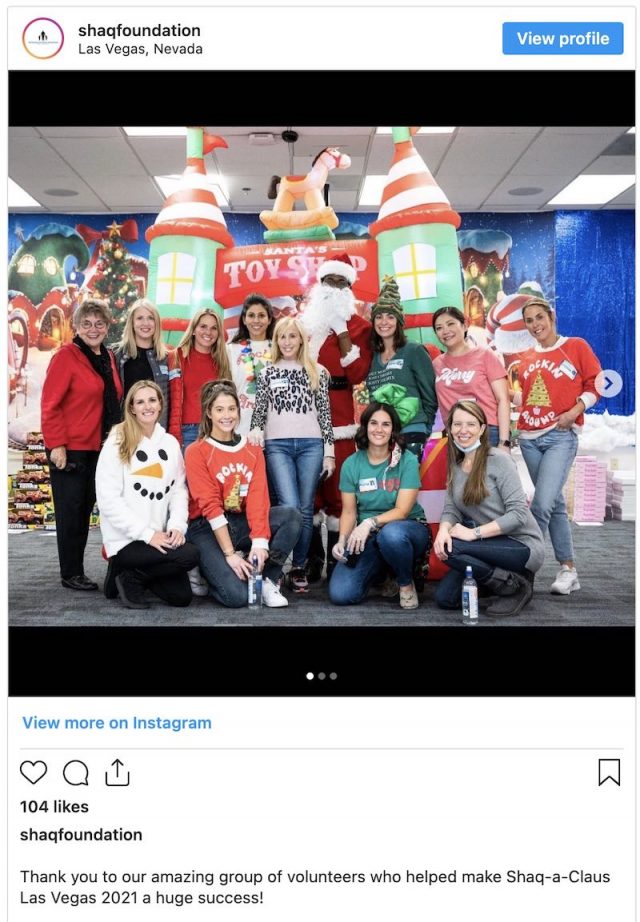 Shaq said he hopes his efforts go beyond Christmas and are life-changing: "I strategically use messaging that I know that they will listen to. I try to be the doorway for them to conquer their dreams."
"Hopefully, the world becomes a better place and we can bring the police and communities together. And I just want kids to be able to follow all their dreams," he added. 
Keep up the great work, Shaq-a-Claus! Merry Christmas to all!