The Los Angeles Lakers continue to underperform, and Shaq continues to ride them hard over their play. The big man's Big Podcast offered the latest chance for him to sound off… and he certainly did.
As of this writing, the Lakers are sitting in the 7 slot in the NBA Western Division, sporting a sub-500 record of 16-18. Just for the sake of comparison, King James' old squad, the Cleveland Cavaliers, are in the number five slot in the East, with a very respectable 20-13 record. 
To say the Lakers are not playing up to their potential is certainly a major-league understatement. Some recent stats showed LeBron James putting up really good numbers over the past five games, yet the Lakers have gone 0-5. Yikes. 
A recent post on the Sports Illustrated NBA blog put it in perspective: "The clock is ticking. With each passing game, "early in the season" becomes less and less true. And the Lakers do not appear to be progressing or moving towards becoming a team capable of winning an NBA Championship." 
On the latest episode of Shaq's "The Big Podcast," O'Neal let his feelings be known in no uncertain terms. He singled out two of the team's star players – Anthony Davis and Russell Westbrook – for not playing their part.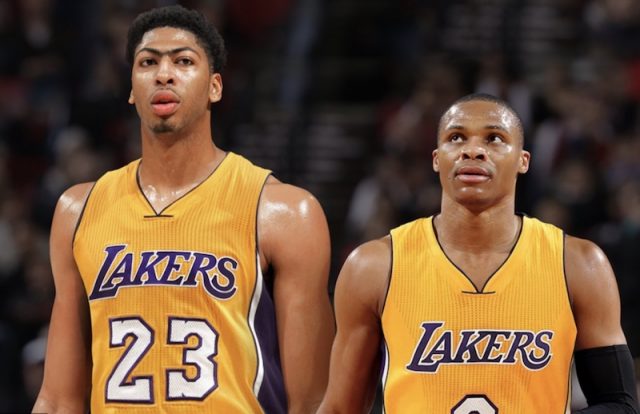 Shaq: "Because, remember, he (LeBron) needs help. And the help that everyone hyped so much. Ooh AD is coming back. Oooh oh my god we got Russell Westbrook, oooh oh my god we just got Carmelo, oooh oh my god we got this shooter. Ooooh, those guys ain't stepping up. Listen, I'm telling you now, I would not have four championships if Kobe (Bryant) didn't give me 28… Everybody got to step up."
On the surface, Westbrook has put up some pretty good numbers so far this season. He's averaging just under 20 points per game and dishing out 8 assists per game. But at the same time, he's been quite the turnover machine as well. Absolutely not what head coach Frank Vogel is looking for in such a star-studded lineup.  
As for Davis, analysts are openly wondering what's going on in the big man's head this season. At least one publication has pointed out that AD has been putting up his usual points and rebounds this year, but it looks like he's getting pushed around more on the floor this year by defenders. An ongoing injury-bug hasn't helped. Davis has spent a lot of time on the bench this season. 
Like we said, LeBron is leading, but so far, not getting the help he needs from the troops. At 37 years old, he's averaging close to 27 points per game and close to 7 assists. Great stuff, for sure. But he can't do it alone. 
As Shaq points out – rightly so – King James can't do it all himself. If the Lakers want to move up in the ranks and compete in the postseason action this year, he's going to have to get some help…and soon.