Who do you follow on Instagram? Shaq? His son, Shareef? How about the singer Rihanna? If you check out any posts from them, you may have seen this little joke / spat play out over the past few days. 
Seems both father and son think they have a shot with the sexy young singer. As for Rihanna herself…well, that's a big fat "no." But father and son appear to be having some fun trolling each other over their respective chances. 
The story started not long ago, when 21 year-old Shareef O'Neal posted a photo of himself on his IG feed, looking all cool and sharp in a purple Fenty robe (Savage X, to be exact…nice!). In the photo, he's staring at his phone. It looks like he's not-so-patiently waiting for something special to show up. The caption reads simply, "Waiting for Rihanna like…"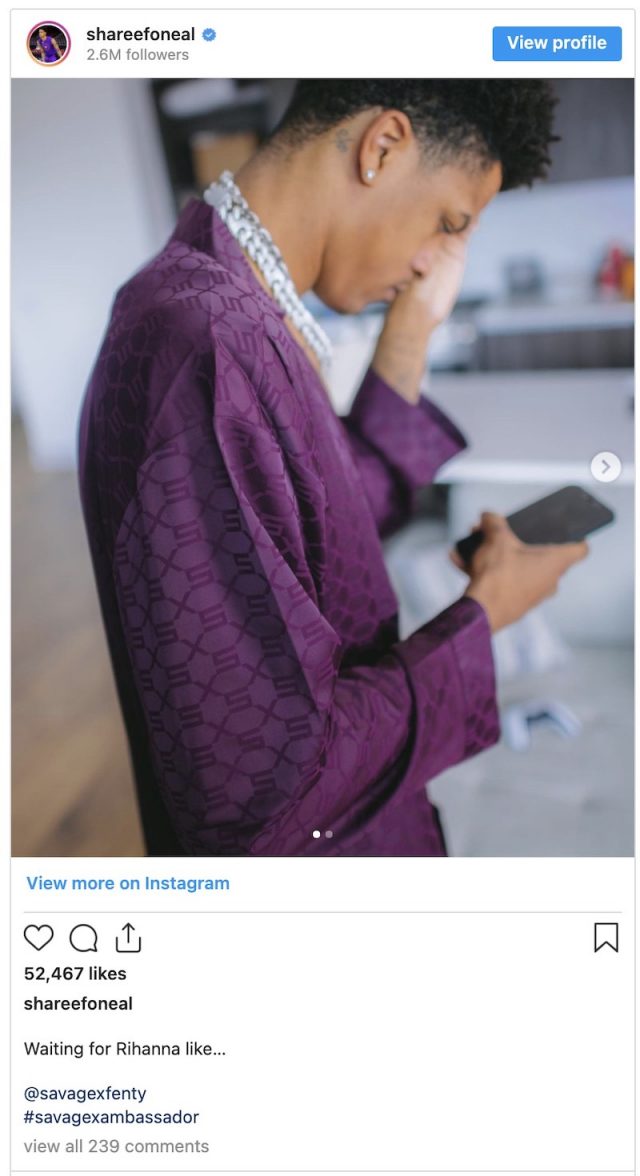 By the way, the choice of the nice purple robe was no coincidence. Shareef is a promotional partner with Fenty (using the #fenty hashtag on some of his fashionable posts), and that brand is collaborating with Rihanna's own line of super-popular ladies lingerie. 
Meanwhile, dad is having none of it. O'Neal fired off a few IG posts of his own. On one his comments to his son's post, he said it directly: "she don't want u she want me i'm sexier."
Now, we're pretty sure that neither guy is getting a real shot at Rihanna. Shareef is currently attending LSU – where his father went to university – and is working on his studies and hoops. As we said, he's 21, while Rihanna is 33. 
Still, that's closer in age than Shareef's father. Shaq turns 49 in March, so the numbers don't really work out for either man. Not to mention, Rihanna is currently very much off the dating market. She's been romantically connected to longtime boyfriend A$AP Rocky, who's also 33, BTW.
The pair connected and have been a thing since way back in 2013 after co-starring in the "Fashion Killa" video. It was just a friend-thing for a while, but turned into a full relationship towards the end of 2019. 
Still, Shareef presses on in hopes of maybe someday having a shot. In the back-and-fourth on IG, he wrote back to his father that he'd  "already bagged" her. "It's too late man," he joked back.
Funny stuff, for sure. The exchange even got the attention of Shaunie, Shaq's ex-wife and Shareef's mother. Whose side was she on? Well, she added the heart emojis to Shareef's comments…not so much for Shaq!