With the holidays and New Year's in full swing, our man Shaq is making a big push to raise money for charities helping kids. He's doing it through the sale of a set of NFT's that is slated to raise about $2 million dollars. 
So…don't know what an NFT is? Are you familiar with cryptocurrency at all? They're a special form of crypto. Background info: according to Forbes Magazine, NFTs are "a digital asset that represents real-world objects like art, music, in-game items and videos. They are bought and sold online, frequently with cryptocurrency, and they are generally encoded with the same underlying software as many cryptos."
A lot of NFT's are cute little bits of digital art. You may have seen some on social media feeds. One of the most popular out there is a group of similar artworks going by the name of the "Bored Ape Yacht Club." They're silly and fun, yet can be sold and traded for thousands of dollars. 
Seeing the trend and the opportunity to use this new medium of art for charitable fundraising, Shaq commissioned a set of NFT's, of himself, of course, and put them up for sale. No surprise, they sold out in hours! 
And they were cool, too. Each one featured unique depictions of The Big Aristotle … showing the former Lakers superstar in different costumes with funny facial expressions.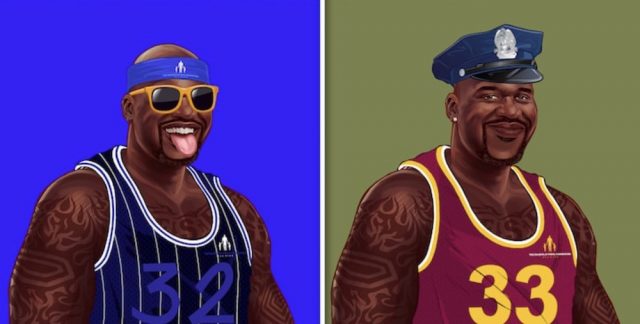 Some had him in Lakers-colored gear, while others had him wearing a Magic-themed uniform. Some even showed him with donuts, pizza and Christmas lights.
The money raised – like we said, about $2 million in total – is going to be funneled through The Shaquille O'Neal Foundation, which helps underserved youth in America.
To create the NFT series, Shaq and his team partnered with online / digital consultants The Notables. The Notables is a platform designed to both create and sell NFTs (non-fungible tokens). You'll be seeing a lot of them in the months to come. 
In all, more than 10,000 animated images of O'Neal were created. They all sold otu by December 27th. Some pictures showed O'Neal smiling and wearing a Santa Claus costume or other Christmas attire. In other photos, O'Neal is wearing different team jerseys from his playing days. 
The Shaquille O'Neal Foundation has several great programs to benefit underserved kids. There are programs like "Shaq-To-School" and "Shaq-A-Claus" that are also used to collect funds, school supplies, or Christmas items for the "underserved" children.
One of the cool features of NFT-based art is that whenever it is sold online, the originator of the art gets a commission. That means that when (and if) an original buyer of one of the Shaq NFT's decides to sell, Shaq's Foundation will get another contribution, helping out kids programs even more. The gift that keeps on giving!