On a recent podcast, Shaq talked again about his appreciation of "the Greek Freak," Giannis Antetokounmpo. Giannis is a superstar talent, for sure, yet that's only part of the reason O'neal and former Lakers teammate Robert Horry said they were big fans. 
Talking on The Big Shot Bob Pod, the former Laker teammates discussed Giannis' memorable run. One of the things both Shaq and Horry pointed to was the Freak's way he thinks about teammates and the game in general. 
In several past interviews, Antetokounmpo has said he's not playing in the NBA to make friends with teammates… he's there to win, and do it with whatever lineup he's given. 
"The one thing I respect about Giannis is he said 'I ain't friends with nobody' you know, I wanna do one thing and go out and win. So I respect his championship, I respect it," Horry said.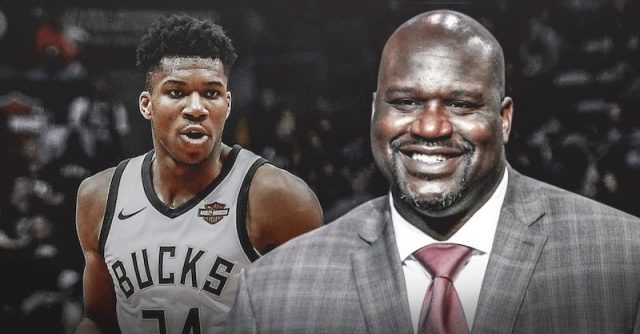 Shaq agreed with those remarks, saying if Giannis can win back-to-back titles, he'll earn more admiration from the Big Diesel. However, Shaq also took a shot at Bucks head coach Mike Budenholzer. 
"If he's able to do it again, I'm his biggest fan. But he just needs a better coach than Bud." 
The Bucks had a powerful playoff run last season, eventually getting to the Finals and beating the Phoenix Suns in six games. Since then, Antetokounmpo has shown his loyalty to the first and only team he's ever played for in the Association, signing the largest contract in NBA history.  
The Bucks didn't have an easy path to the championship, facing the Brooklyn Nets, Atlanta Hawks, and Suns on their way to the glory. The team's front office made sure to surround the forward with the right players to make up for his shortcomings, creating a terrific squad at Fiserv Forum. 
There's no doubt that Giannis has exceeded expectations in Milwaukee, becoming one of the most dominant players in the league right now. 
Antetokounmpo has a different mindset and isn't interested in joining other stars to win an easy title. Giannis went through hard times every season until he finally was able to lift the Larry O'Brien trophy. Considering all the doubters around him and the Bucks at the start of last season, that's quite the accomplishment.