We all know that after his playing days with the NBA ended, Shaquille O'Neal went on to become a superstar in the business world as well. He's done commercials, become a "brand ambassador" for several companies, and so much more. Yet even as a young  man on his first NBA team, Shaq had an excellent sense of his own worth, and he wasn't afraid to speak up about it. 
In a long and much-awarded career, O'Neal is certainly one of the greatest and most dominant players in NBA history. A 15x All-Star, 14x All-NBA player, and 4x Champion. Great numbers by any standard.
Yet even back in the late 1990s, Shaq knew how to maximize his value. On a recent interview on the Gary V podcast, O'Neal talked about his final days with the Orlando Magic and his subsequent move to the Los Angeles Lakers. 
It was the Magic that selected Shaq (out of LSU) with the very first pick of 1992 draft. He'd play in Orlando from 1992 to 1996, putting up some awesome numbers (and breaking a few backboards) in the process. 
In 4 seasons with the Magic, Shaq proved to be a guy who could lead them to Championships. Over his time there, he averaged 27 points and 12.5 rebounds per game on 58% shooting. He wasn't even 25 by the time he left to join the Lakers.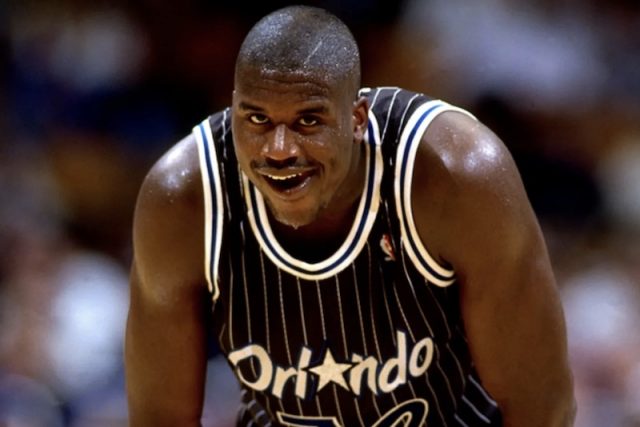 But then came contract negotiations. On the podcast, Shaq says he was in "active negotiations" with the Magic, but really getting nowhere. That's when the Magic put their best offer on the table – a 4-year, $80 million deal.
But like we said, Shaq knew what he was worth, telling the podcast audience: "I said listen, if a BMW cost $115,000, how much do you think this is gonna cost? That's all I said. So then they were like no we're not gonna do it. And then I was at a strip club, Manchester City. My former agent Leonard Armato called me, had one of those big dope man phones, and said 'you need to come see me now, I got what you want'. So when I get there, open the door, it's the great Jerry Buss."
Of course Jerry Buss was the majority owner of the Los Angeles Lakers at the time (the team is still under family ownership). The two would go on to create the deal that would send O'Neal out west to the Lakers, and that great run of Championships with Kobe Bryant and others. Three NBA titles in a row, and with Kobe, one of the great one-two combinations in the history of the game. 
How much would it have cost to keep Shaq in Orlando? Probably another $20 million dollars on the four-year deal. Back in the 90's that was a lot more money than it is now, with mega-dollar deals all over the NBA landscape. 
Still, it would have been interesting if the Magic had dug deep and paid the money to keep Shaq in Florida. In other ShaqFu Radio posts, we've talked about possible pieces that could have been added to the Magic to make the team a true contender.  Had O'Neal stayed, he might've helped the Magic win multiple Championships. Unfortunately, we'll never know how that might have worked out.