Shaq played favorites? For players NOT on his own team? Yes, it seems to be true, at least according to a new interview. In his prime with the  Los Angeles Lakers, Shaq was of course pretty much unstoppable at both ends of the floor – dunking whenever he was near the rim, and blocking shots of all kinds from the opposition. 
It was that kind of overwhelming power and skill that helped Shaq and Kobe Bryant lead the Lakers to that amazon three-peat of NBA Championships. It was obvious that when Shaq had his game on, he was pretty much unstoppable at either end of the floor. But the big man had his own personal favorite players around the league, and sometimes that worked in the other teams' favor. 
Case in point: during the 2000-2001 season, the Finals came down to the Lakers versus the Philadelphia 76ers, who were led by their superstar, Allen Iverson. The Lakers were defending champs, and the Sixers had had a great season behind AI. 
O'Neal was in the habit of saying (and doing) whatever he wanted to, and that has seen him make several slightly controversial statements even after he finished playing.
And by the end of the 2000-01 season, the Lakers were the defending champions and their superstar pairing of Kobe Bryant and Shaquille O'Neal was considered the best in the league. Still, they were facing thaat year's MVP in the NBA Finals in Allen Iverson, who had pretty much carried his 76ers team on his back that entire campaign.
In the first game of the series, Iverson definitely lived up to his advance billing, scoring 48 and leading his team to a surprise win.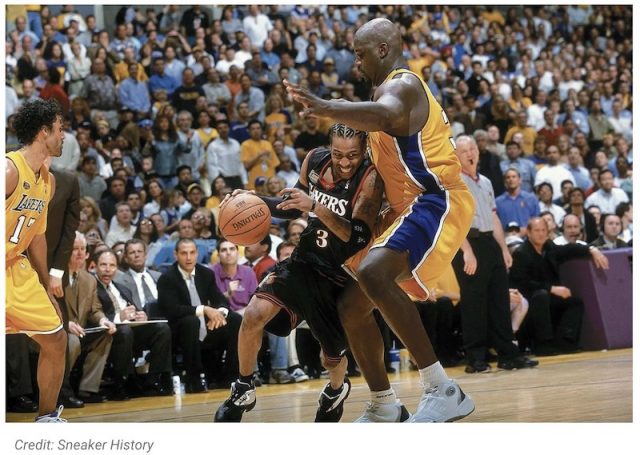 In his interview, Shaq said there were several players – Iverson included – who he personally liked, and would sometimes "allow" those favorite players to score on him during a game. That was the case with Iverson, for sure, even though Shaq claimed he could have done a lot more to lock down the Philadelphia superstar. 
"There were guys that when we played them, I was such a fan I let them do what they wanted on me. White Chocolate (Jason Williams), I want him to go to work. Vince Carter, A.I. (Allen Iverson) and Tracy McGrady."
"Every time we played A.I., I liked him crossing over and he was tough. I could've blocked his shot multiple times, I just didn't want to."
Stats show Shaq and A.I. faced each other on 30 different occasions during their career, with O'Neal winning 18 of those contests. He must not have been trying all that much on defense for most of those games though, considering that Iverson averaged 28.5 points in those games. 
Iverson is considered one of the most prolific scorers in the history of the game and while O'Neal might have let him have it easy a few times, there probably wasn't much he or anyone could do against The Answer when he had it going.