It would be an understatement to say things are changing for the Los Angeles Lakers. The team missed the playoffs (after winning the NBA Championship two years ago in the infamous "bubble season"), and fired coach Frank Vogel immediately after the season ended. 
Not long after Vogel's departure, our man Shaq said he would be happy to become the new head coach of the team, but it would take a four-year contract, at the price of $25 million dollars per year. (BTW, that was Tom Brady's salary for his last two years with the Tampa Bay Buccaneers.) Here at the offices of the ShaqFu Radio blog, we're pretty sure the big man was kidding about taking on coaching duties for the Lakers. 
First things first – the Lakers are looking for a new coach. No word – yet – on who will get the job. Coach candidate or not, O'Neal has been vocal about what he thinks the Lakers should be thinking about heading into the offseason and what will certainly be a rebuilding period. 
Shaq says one thing is clear: The Lakers should keep their 'Big Three' of LeBron James, Russell Westbrook and Anthony Davis. After that, O'Neal says the team needs to go out and find a supporting cast of young players who can knock down the outside shots.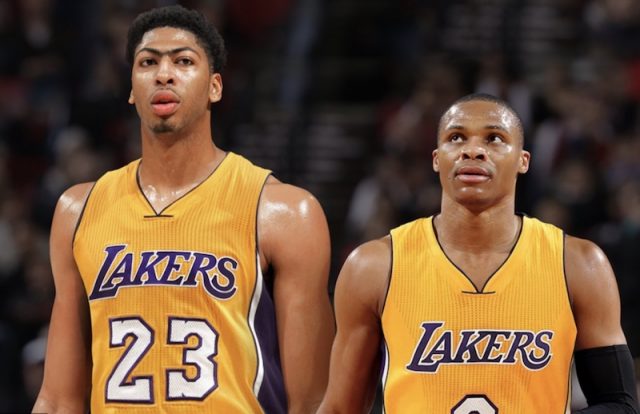 This past season, that big three never found a rhythm. Davis and James were sidelined with injuries at several points during the season. Unfortunately, that's going to happen with a team that was the oldest in the league with an average age of 30. 
On tour with one of his promotional partners, O'Neal took time to talk to reporters about his former team. "I think they definitely have to get younger," O'Neal told the Reuters news agency, while promoting Icy Hot pain-relief patches.
Shaq: "So if they can keep LeBron, Russell and AD, everyone else needs to be very young. You can't have five or six guys in their upper 30s because the league is getting younger and faster."
He continued with a quote from his TNT broadcast partner Charles Barkley: "To have, as Chuck says, old geezers running up against these young boys, it's not going to work over an 82-game stretch."
As for a pick for coach (not himself), Shaq mentioned Mark Jackson, who infused a young Golden State Warriors team with confidence that later helped them flourish into a dynasty under Steve Kerr. "Mark Jackson helped build Golden State before Steve Kerr took it to the next level," he said. "He made it a very sexy brand to watch, so I'm sure he can do that with LeBron and Russ."
What's next for the Lakers? We've got all summer to find out. Los Angeles is certainly one of the legendary franchises in the Association, and it's going to be an interesting job, rebuilding both the team and coaching staff.