Seems that talking smack isn't just for active players… our man Shaq just had made some really awesome – and funny! – comments about one of the league's best defenders. 
Speaking on his own show "The Big Podcast," O'Neal was asked by co-host Spice Adams about the defensive skills of current Utah Jazz big man Rudy Gobert. The former French pro player is making a big impact on the NBA these days. He's won the Defensive Player of the Year Award in three recent seasons! 
Thanks to our friends at FadeAwayWorld for turning us on to this story. Seems that Adams made the statement that he thought Gobert would hold Shaq to just a dozen points in a game featuring the two (really) big men. 
Of course O'Neal would have none of it. Would Gobert shut him down? Well, Shaq put it this way: "12 points? Yeah, in the first three minutes." Yikes!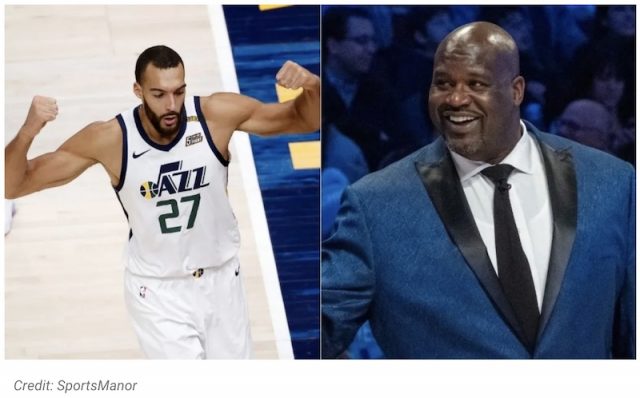 Shaq added more, talking from his experience with the Lakers: "Let me tell you something, man. It's against my religion for somebody to hold me one-on-one. I take that personally. I do. First play of the game I always used to look and see what the defense is going to do. Like 'Okay, he's doubling from Spice [Adams]. Spice is going to be wide open for the jumper. Like, I always look at the first play. But if I get it and nobody's coming, I take that as a sign of disrespect."
Now, Shaq and Gobert have some history. For some reason, it seems that O'Neal has just never been a fan of the talented Frenchman. "You know what I'm going to do to him? He's a shot blocker. You can't shoot a shot. You've got to back his little skinny a– up under the rim. Show him the 'bow so he gets scared and just go up."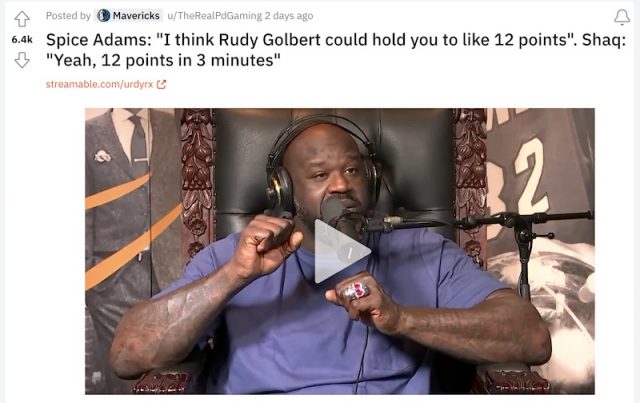 To see the podcast video, click on this text. 
Back in January of last year, O'Neal clowned Gobert after he signed his $200 million extension. "I'm not gonna hate, but this should be an inspiration to all the little kids out there," said O'Neal. "You average 11 points in the NBA, you can get $200 million. The silver lining is he is a great agent, and I'm happy for him and his family. With the new rules, you have a pot of money, and you have to spend that money. I'm happy for him, but this is a moment for a lot of kids who think they can't make it."
Absolutely no surprise, right? Shaq would never go for the idea of being shut down by anybody – at least not that we can think of. And when it comes to being defended by Rudy – who Shaq has commented on in the past – any suggestion that Gobert might be able to successfully defend him is a pretty crazy statement. 
As one of the most dominant big men in NBA history, O'Neal was an absolute force in his day. Nobody, not even Rudy Gobert, would have been able to stop him… especially in Shaq's opinion!