If you've been watching any of the coverage of the NBA Playoffs (and who hasn't?), you'll know that analysts and commentators have been pretty hard on Ben Simmons of the Brooklyn Nets. Now Simmons is speaking out in his own defense. 
The Nets are already out of the playoff picture. The Boston Celtics beat Brooklyn in four games in the first round. As for Simmons, he hardly played in that series, and for that matter, he played very little for the Nets after being traded to Brooklyn from the Philadelphia 76ers.  
According to Simmons, he was suffering from a back injury, and that prevented him from any significant minutes during the season or playoffs. That led to some pretty harsh words from critics, including our man Shaq and others, including popular ESPN analyst Stephen A. Smith. 
Want to see previous coverage from here at the ShaqFu Radio blog? Here's a recent post – click here. 
Not everyone has been on Simmons' case. Podcaster and analyst Doc Holiday put out a Twitter video saying Shaq, Smith and others owe Smith an apology. 
Holiday: "Screamin' A. Smith, Shaq, Barkley, Reggie Miller, Kendrick Perkins, Skip Bayless, Shannon Sharpe, and all those other national media personalities that made fun of that man. Shaq, [saying] he punked out. Stephen A. Smith talked about all other things about his mental capacity and all of that. Are y'all going to apologize to that man? Who literally has a hurt back."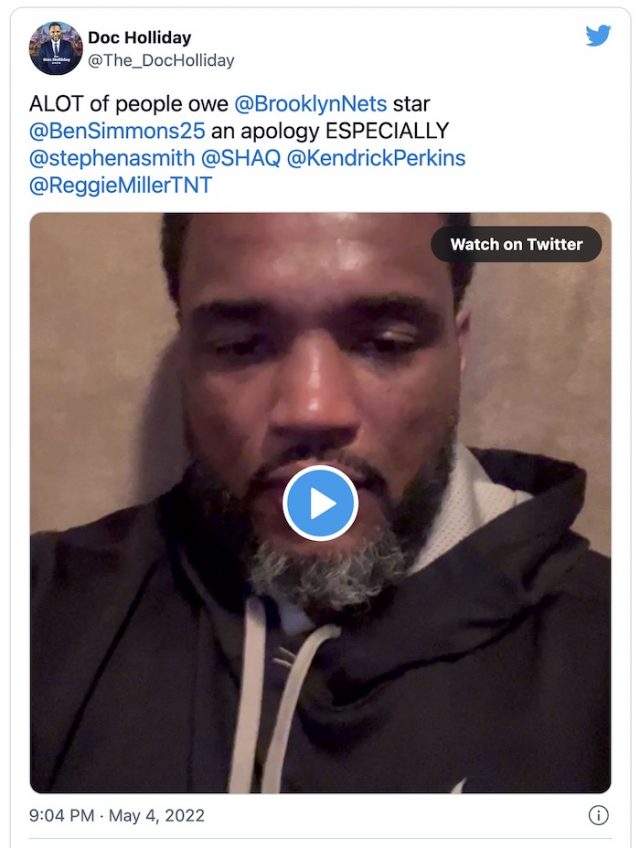 There had been hopes that Simmons would be able to suit up for the series against the Celtics in the first round of the playoffs, but it didn't happen. With James Harden gone – traded to the Sixers in the deal that brought Simmons to Brooklyn – Kevin Durant and Kyrie Irving were not able to carry the entire load, especially against the powerful Celtics defense. 
Not surprisingly, Stephen A. is having none of the talk about an apology. Smith pointed out that in NBA history, numerous players have toughed it out and suited up for important games and series. Smith also noted that Simmons is trying to get back money he lost due to various fines and absences.
Talking to USA TODAY, Smith said this: "There's plenty of players who we've seen throughout NBA history that have ended up having to have a procedure on their back – but they played. And they played, and they got injured or whatever, they still tried to play through it, and then obviously they needed a surgical procedure in the offseason. They didn't just sit on the bench for a year and not play one second of basketball while filing grievances to get back $20 million in salary."
No word from Shaq just yet… but our man has plenty of on-air time during Inside the NBA playoff coverage to make his feelings and thoughts well-known. We'll see if he speaks out, or let this not-quite-sleeping dog lie.