There's very little argument that when it comes to football – especially the quarterback position – that Tom Brady is the G.O.A.T. Now the question is, will be be just as awesome when it comes to working behind the microphone, and not just under center? 
In case you missed it, it's been recently announced (as of this writing), that former New England Patriots and current Tampa Bay Buccaneers QB Tom Brady has already signed on with the Fox TV network to become a game announcer….when he retires.
When will that retirement happen? Hard to say. After last season, Brady announced his retirement, then in the space of a few weeks, took back that decision. He'll be in uniform for the Bucs again this season. It'll probably be his last on the field, but with Brady, it's hard to say. 
All well and good, right? Lots of former athletes turn to the TV announcers booth after their on-field careers are over. Our man Shaq is probably the best, and certainly the biggest, example. It took a few years after his hoops career ended to find his TV home, but now he's a staple on Inside the NBA, and a fan favorite. Here at the offices of the ShaqFu Radio blog, we're big fans of Tony Romo as a football analyst with announcer partner Jim Nance.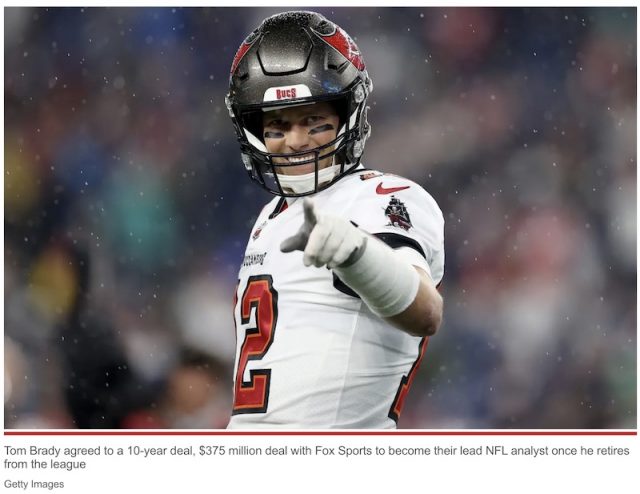 Here's the big news of the Brady story: Seems the GOAT is going to be collecting all-time big money for the TV deal, no matter when it happens. If the rumors and reporting is true, Brady will college $375 million dollars over a ten-year contract with Fox…wow! 
Do the math… that's $37.5 million dollars a year over the decade of the contract. That's more than Tom earned on the field as a QB with the Bucs over the past couple of years – his playing contract was about $25 million a year for two years. Did we say wow? Yeah, pretty sure we did.
Some have complained – or at least dissed the idea of Brady collecting such big money. Here's the O'Neal part of the story, and it's impressive. Shaq believes Tom Brady deserves every penny of his $375 million deal with Fox Sports.
On a recent episode of his show, "The Big Podcast with Shaq," the NBA legend talked Brady and TV contracts with co-hosts Nischelle Turner and Spice Adams. He made it clear that anyone scoffing at Brady's upcoming / future payday is a "hater."
Shaq: "When it comes to greatness of this kind, if you lend any anger, you're a hater. Everybody can't and ain't gonna get this money. Seven Super Bowls. Clean cut. Good looking. Speaks well. He deserves all the money. Whoever says he don't deserve this money, shut your face."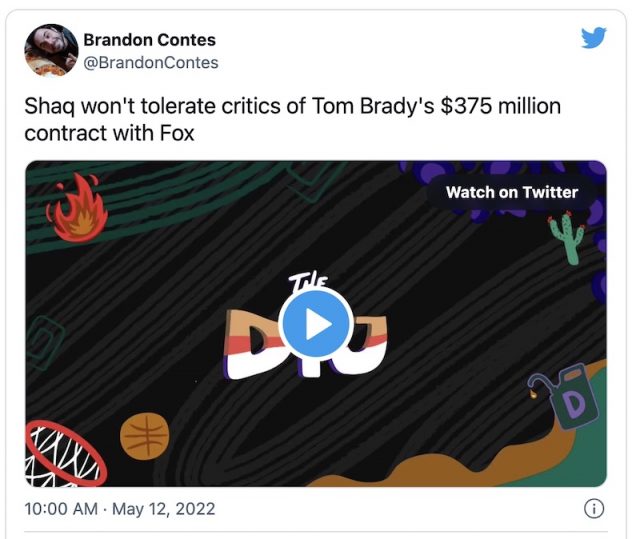 To see the Big Podcast video, click here.
Fox Sports has confirmed the deal with Brady. As for Tom himself, he also gave it just a little bit of social media play, tweeting, "Excited, but a lot of unfinished business on the field with the @Buccaneers #LFG." (BTW, if that's a new hash for you, it's "Let's Freaking Go." Nice!) 
Talking about the pivot of on-field to off-field employment, another former star quarterback-turned-announcer – Kurt Warner – said Brady will have his work cut out for him. 
Warner speaking to the San Diego Union-Tribune newspaper: "You go from being great at something to wondering if you're ever going to be good at anything else. You have to fight that battle just like anybody else does that goes from one job to another. You have to build your confidence up and figure out who you want to be."
Warner is currently working on The NFL Network. He says making the changeover to analyst can be tough. "One of the hardest things is, when you're a guy like Tom Brady that everybody likes and you want to be liked by people, and you have to figure out how to truly analyze and be critical of what's going on but not be critical of people."
So… no start date for the new job yet, but we can't wait to hear and see how Brady takes to the employment status. But as football fans, we're also stoked for a new NFL season with one more campaign for the GOAT. Brady's 23rd NFL season kicks off Sunday, Sept. 11 for a Week 1 road game against the Cowboys.