Across the history of the NBA, you could probably fill one wing of the Hall of Fame with an exhibit for the greatest "dynamic duos" of the game. Pairings of two very special players that, when put together, created something even better than each individual player on his own. Recently, there's been some discussion if that magic is being seen again, this time with the Philadelphia 76ers.
Now the Sixers are already out of the playoffs, so the conversation may be a bit behind the times. Yet even after the end of the season in Philly, there was talk that James Harden and Joel Embiid might be working on building the next great pairing.
This season, Harden was brought to Philly on a trade from the Brooklyn Nets. There was hope that along with Embiid, the two would power the Sixers deep into a playoff run. That didn't happen, so now Philly fans are waiting to see what happens next season. 
There's no doubt Embiid needed (and still needs) the help, should there be future playoff runs. The Beard might indeed be the guy, but the jury is still out on that. Still, that has not stopped the off-season conversations about the pairing of Harden and Embiid. Some have gone as far to say that it could be the new version of a certain Shaquille O'Neal and Kobe Bryant.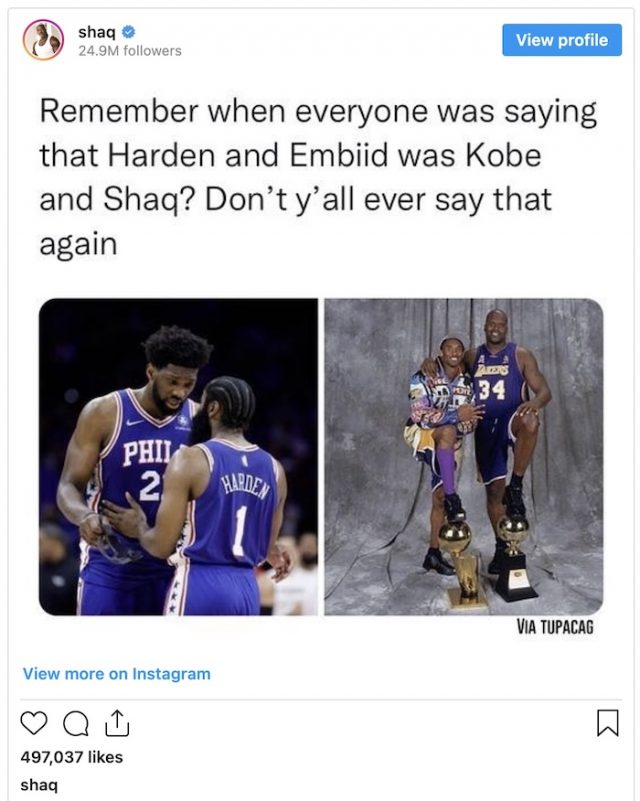 Not so fast, claps back our man Shaq. He's been out with more than a few Instagram posts, saying there's no comparison between himself and Kobe with pretty much ANY other duo.
Shaq: "Remember when everyone was saying that Harden and Embiid was Kobe and Shaq? Don't y'all ever say that again."
To slam the door even harder, Shaq followed up with: "Only one superduo ever created , yea i said it, ONLY ONE. Miss u Kobe."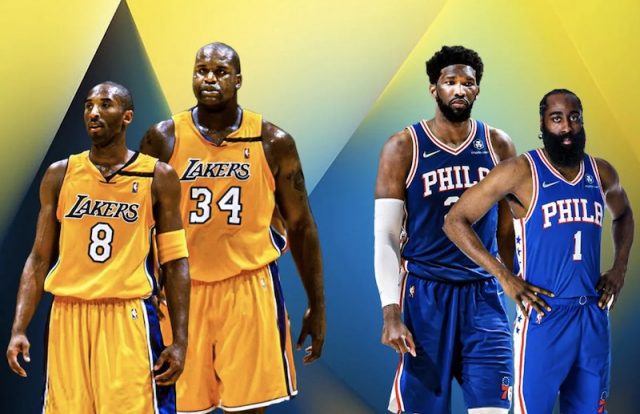 Seems O'Neal took offense when the comparisons started…then he pulled a verbal Shaq Attaq on those who dared to compare one of the greatest duos in NBA history with two players that only played a couple of games together. 
So we'll have to wait and see how the Harden / Embiid pairing shapes up for next season… which is a long, LONG way off, BTW. The Beard isn't well known for staying in one place for too long (Houston, sure…). By next season he could very well find himself in a new uniform.