We all know that our man Shaq was one of the most dominant players in the history of the NBA. He towered over the competition, and made it next to impossible for other teams to score against him. The question now is a little different… How does our man stack up with other big men on the attractiveness scale?
Attractiveness?? What the heck does that mean? Well, during a recent episode of O'Neils podcast – "The Big Podcast" – Shaq told his listeners but when it comes to big men over 7 feet tall, he considers himself to be the best looking of that very tall bunch.
If you want to check out the competition, we're talking the likes of Patrick Ewing, Dikembe Mutombo, and Rudy Gobert. Currently, only Gobert is currently playing in the Association, with the Utah Jazz. 
It all started when one of the other show hosts asked O'Neal why he walks the way he does. Not sure what that has to do with a conversation on good-looking NBA players. We've the way the big man moves… he definitely has some swagger to his gait. 
For an answer – about why he walks the way he does – Shaq had a not-so-humble answer. The big man said it was because he's won 4 NBA championships and scored 28,996 points in his career. Definitely some pride…well deserved.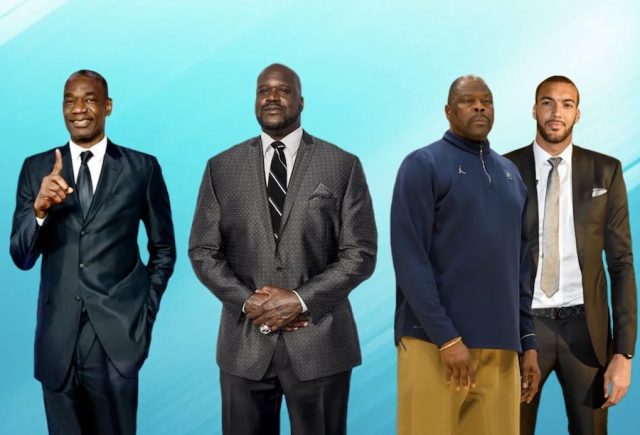 Shaq put it this way: "I take pride in saying I'm the best looking 7-footer in the world… Ewing, Dikembe, Gobert, come on, man. I'm the best looking 7-footer in the world. This is how I get em right there. Because I got bad hips from scoring 28,996 points. That's why I got bad hips. And I got 4 rings…"
Best looking… and funny, too! Still, there's no doubt that O'Neal's oversized persona and likeability is what's helped his career as TV commercial spokesman and promotional wiz. He's got a ton of different endorsement deals! Everything from Papa John's Pizza (of which he's a big-time store owner and member of the Board of Directors), as well as being the "CFO" (Chief Fun Officer) for Carnival Cruise Lines…and lots more. 
Of course the question of his best-looking status among the NBA's former and current big men is not really something that's completely up to him to decide. If you'd like to weigh in on the question of best-looking big men, feel free to leave a comment below. 
Best looking or not, Shaq is certainly our favorite big man, and one of our favorite humans, as well.