As this post is going online, the NBA Finals are in the headlines. The Golden State Warriors are squaring off against the Boston Celtics. So far, it's been an interesting and exciting series – aren't they all? 
Twenty-one years ago, the Los Angeles Lakers, led by Kobe Bryant and Shaquille O'Neal, were tearing it up in the big time 2001 NBA Playoffs. The Lakers made short work of the Portland Trail Blazers, Sacramento Kings, and San Antonio Spurs. They swept them all! Then came the Finals against the Beast From the East and the tournament's Number 1 seed, the Philadelphia 76ers.
At the time, Shaq and Kobe were of course future Hall of Famers – no question. But so was 76ers star Allen Iverson. Up to those Finals, AI had – to put it lightly – not really been playing up to his superstar status. It had taken the Sixers two Game 7s to reach the NBA Finals.
So it seemed the Shaq and Kobe-led Lakers would once again dominate, even in the Finals. They had the bigger star power, and held home-court advantage when the series began June 6, 2001.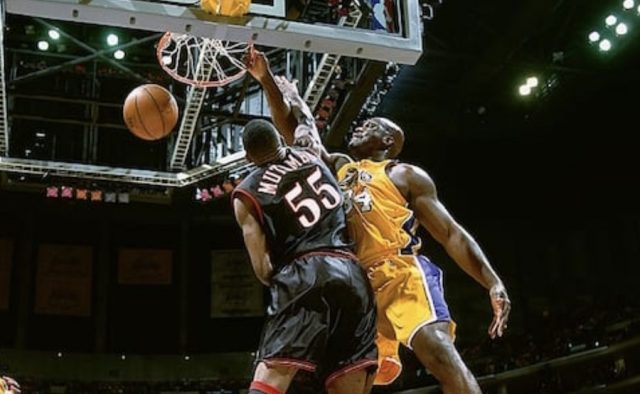 That game seemed to follow the same script as previous Lakers outings. The purple and gold shot out to an early 21-9 lead. We're guessing that Lakers fans (probably including actor Jack Nicholson in his famous courtside seats) were thinking it was the beginning of another Lakers sweep in the making against the hapless 76ers. 
After all, as the series began, the prospects for the Sixers did not look good. Sure, their team was solid, but they were going up against what was arguably one of the greatest teams of all time, led by one of the greatest duos in NBA history. 
But that night, Iverson would have none of it. The 76ers mounted a huge comeback, led by Iverson, who personally racked up 30 second in the second half. As for the Lakers, they didn't stand around and watch. Shaq did what Shaq did to most opponents, with a 44-point, 20-rebound, 5-assist Shaq Attaq night.
Iverson would also finish the night with more than 40 scored. For you NBA history buffs, that game marked only the second time in Association history that opposing players scored at least 40 points in the same NBA Finals game.
Iverson had 48 that night, leading the Sixers to a shocking 107-101 win. With the victory, the 76ers silenced the sweep talk and Iverson cemented his legacy in the city of Philadelphia. 
For the Sixers, that was the only good night in the Series. The Lakers would go on to win the next four, helping to create the legend that was the Shaq-Kobe Lakers of the day.