As we say in the news business (we used to be in the news biz here at the ShaqFu Radio blog) "This just in!" Want to party with Shaq? The big man is scheduled to appear – as his alter ego DJ Diesel, of course – in upstate New York. The date is coming up fast, but you've still got time to get in on the action. 
DJ Diesel / Shaq will be on stage and live for a big show featuring Shaq's Bass All-Stars, in concert in Buffalo New York. Like we said, it's coming up fast – Friday, June 24. The show is at Buffalo Riverworks, just bit south of downtown, at 359 Ganson St.
Tickets are already on sale. Here's the link to get yours: mmpresents.com Tickets are $35, plus fees. Attendees under 16 need a parent or guardian; no kids under 12 are allowed in the show.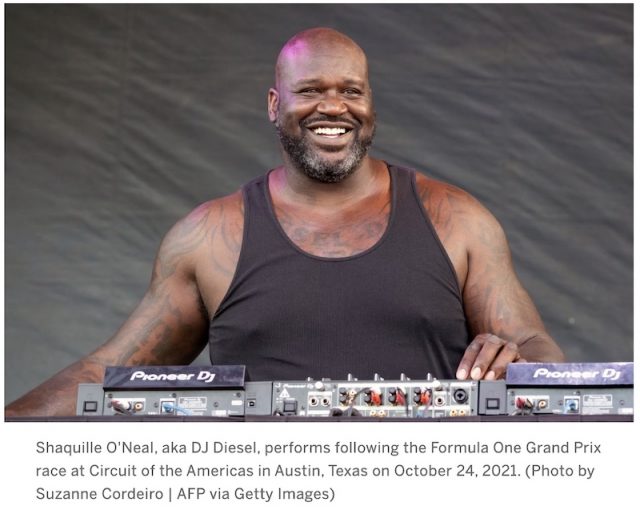 Shaq has some good connections to the upstate New York area. After his retirement from the NBA after the 2009 season, he attended a program called "Sportscaster U" at the Syracuse University Newhouse School of Public Communications. 
Of course that led to his current on-air gig, as co-host and analyst on TNT Network's "Inside the NBA" program with Charles Barkley, Ernie Johnson, and Kenny Smith. Shaq has also worked as an actor, reality TV star, police officer, entrepreneur, and larger-than-life spokesman for a wide variety of products.
In the music world, O'Neal released four rap albums in the 1990s, including the platinum-selling "Shaq Diesel." BTW, that was the start of his using the name in his music-related public appearances. He's been on the road with that moniker since a couple of live events back in 2015. 
Along with our man Shaq himself, his Bass All-Stars event will also feature performances by DJs Herobust B2B Riot Ten, Crankdat and Jeanie.
Need a little inspiration? Here's a video of one of the big man's recent shows. This one was at the "Tomorrowland" music festival in Belgium, just before the pandemic lockdown. 
See you there, Buffalo!