Putting together his interests in business and in giving back to communities, Shaq is back in his old hometown of Newark, New Jersey as a new 33-story apartment tower he helped develop is almost finished with construction. 
O'Neal was just one of the well-known names on hand for the "topping off" ceremony. Along with the former Lakers star, other luminaries included New Jersey Governor Phil Murphy, Newark Mayor Ras Baraka, brothers Wasseem and Sam Boraie, and their father, Omar, Shaq's longtime development partners.
Just like the building, Shaq towered over the proceedings. He gave Governor Murphy props for the way his state handled coronavirus pandemic. For his part, Murphy spoke of Shaq as a loyal Newarker who returned to his hometown again and again to help out. 
Shaq grew up in the city's Central Ward: "People always say I never forget where I came from," O'Neal told the crowd of about 200 state and city officials, business people and fans. "I'm not allowed because my mother has a sister, and her name is belt! And on the inside of the belt it says, 'I'll whip your ass.'"
O'Neal also had good things to say for Mayor Baraka for welcoming and expediting his development plans after previous administrations had not been so welcoming. And he gave credit to his partners at New Brunswick-based Boraie Development for having the expertise and experience to realize his goal of contributing to a more prosperous Newark.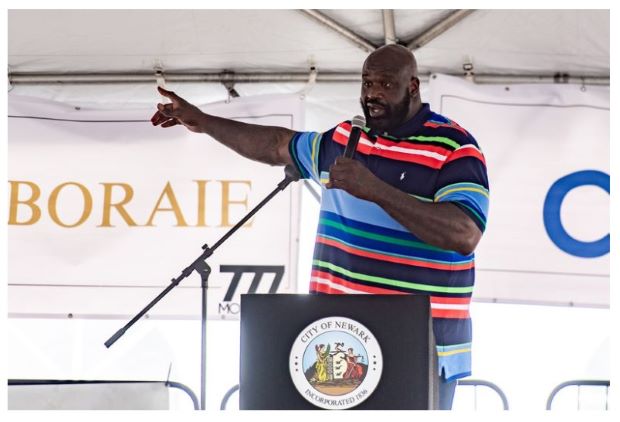 The concrete and brick building, known as 777 McCarter after its location on McCarter Highway near Newark Penn Station, will have 370 studio, 1- and 2-bedroom apartments, including 20% affordable units, as specified by the city. That makes housing more available to families earning up to 50% of the regional median income.
The topping-off ceremony means that the basic framework of the building has been completed through the 33rd floor, though construction is projected to last another 10 months before tenants start moving in late next year. 
The estimated cost for the project is about $190 million dollars, and is being financed by Goldman Sachs, CitiBank and Prudential Financial.
This is the third project for the partnership between O'Neal and the Boraie group. 
Shaq and partners have even more in the works for downtown Newark. During the ceremony, O'Neal said his team already has a fourth project in the works on Newark's Passaic River waterfront. It's expected that construction will early next year and most likely be done in about two years.
But the day wasn't all about fancy new buildings. Earlier in the day, Shaq and team were on hand for the opening of a completely refurbished basketball court in the area.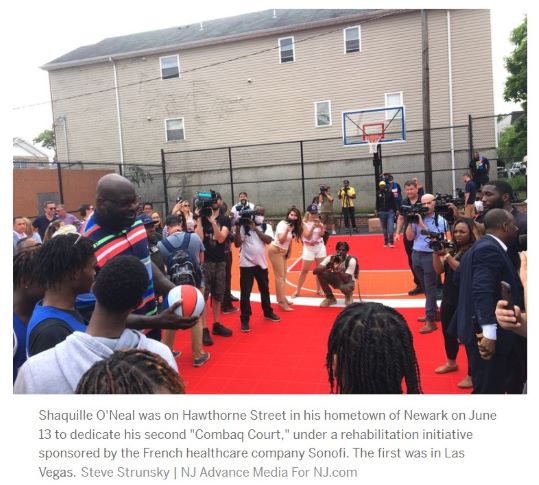 This project was done in conjunction with the Believe in Newark Foundation. It's another one of Shaq's "Comebaq Court" projects to help bring athletics to inner city kids.  
The big man continues to give back in a big way…