Too fast? Too soon? We've been reporting a lot lately here on the ShaqFu Radio blog on the travels of Shaq's son Shareef O'Neal, who is working his way through a list of teams that could be interested in him come draft time. Now it seems the father and son may be in disagreement over the younger O'Neal's plans. 
As previously reported, Shareef O'Neal has worked out with several teams around the country, including the Miami Heat, Cleveland Cavaliers and his father's old team, the Los Angeles Lakers. 
When he was in LA for the pre-draft workout, Shareef held an impromptu press conference. Part of the conversation centered on the differences between father and son over the idea of entering the draft.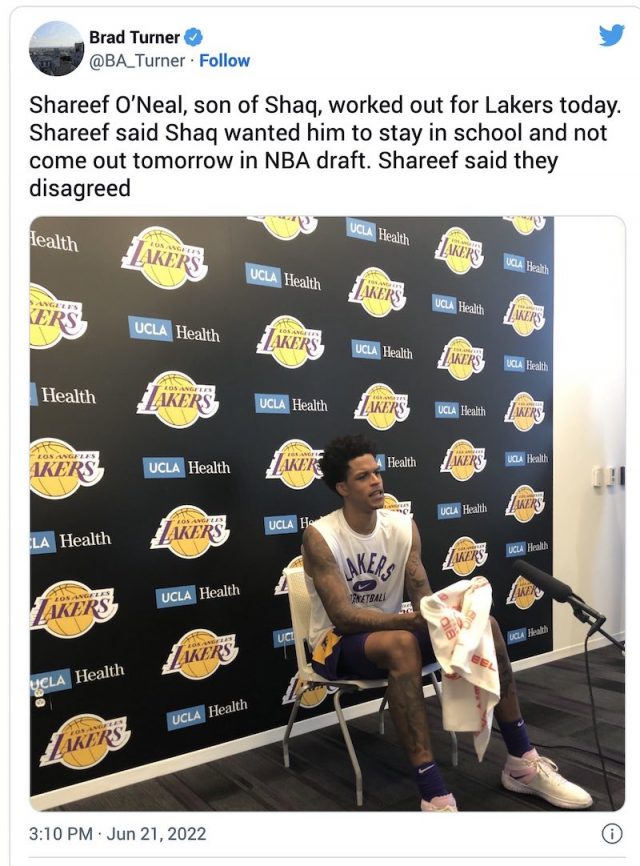 Shareef said his father thought it would be better for him to stay in school. O'neal is currently attending his fathers' alma mater, LSU. He said, "We kind of bump heads about this process. He wanted me to stay in school. I wanted to better myself through this."
As Shareef noted: "He (Shaq) didn't do any pre-draft workouts; he just got straight on the [Orlando Magic], so it's a different grind. So, he didn't want me to do this, and I know he probably doesn't want me saying this, but sorry. We're both grown. We'll get past it."
Of course there were going to be questions and comparisons between the two O'Neals: "I feel like me and him have a whole different story now. I went through some things that he didn't go through. He was the No. 1 pick in the draft. I kind of had to grind to get here. I had to grind a lot," he noted. "I had to go through some stuff these past four years — foot injuries, heart surgeries — and I don't really look to be in his shadow."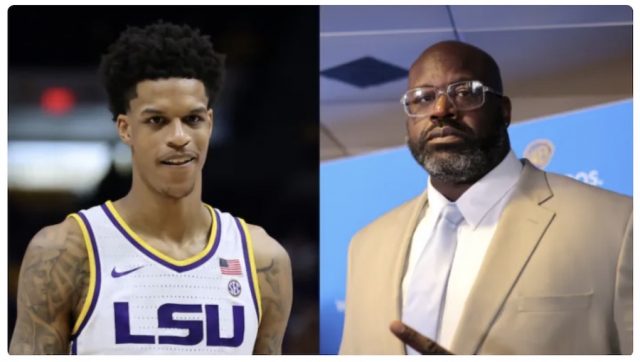 Still, Shareef said he wasn't worried and / or bothered by the inevitable comparisons: "I know it's always going to be there, the comparison. Every kid is going to get compared to their dad who does the same thing as them. So that's going to be there."
Shareef also spoke about how he feels the invitation to the pre-draft workout is helping to make up for him not "getting enough opportunity" during college, as he played basketball for both UCLA and LSU.
"I felt like, in college, I wasn't getting enough opportunity. I wasn't feeling like myself in college," he said. "[The invite] kind of opened a lot of doors for me… I feel like it really brought me back and kind of showed a little bit what I can do."
"Once I started getting calls from teams to work out, I was like, 'Man, this is what I want to do.' I mean I'm here, it's right in front of me, so just go for it. So, I continued to work," Shareef added.
And how did it feel to put on the same uni his father created his legend with back in the day? His words: "I walked in today, and I was kind of starstruck. Like, I was really born into this team. My dad and Kobe won championships when I was born, and now it's me putting on the Lakers gear. It was crazy. I was speechless, kind of."
"It's such a blessing for a team I grew up watching. My dad won championships with this team and now that I have on Lakers stuff, it's amazing. It's a dream come true," he continued.
Will the younger O'Neal get drafted by an NBA team? Too soon to tell, of course. We'll stay tuned, and so should you!