We all know that our man Shaq was one of the biggest, most dominant, hardest-to-cover guys in the NBA during his playing time. On a recent interview, somebody finally pinned down the Big Man on this question: Who was the toughest guy Shaq ever had to cover? 
No doubt – Shaq was a force of nature from his very first moments in The Association. After being drafted Number One by the Orlando Magic, there was no stopping him. His first week as a player for the Magic had him capture the "Player of the Week" award, his first of many different honors and awards. 
Those were also the days of broken down and destroyed backboards, but in Orlando and around the league. If you're a little rusty on your Shaq-history, check out a few online – they're amazing! 
Still, there had to be somebody that gave O'Neal trouble, didn't there? In fact, there was. Shaq talked about it on a video with other players and some friends from TNT's Inside the NBA. 
Who was that troublesome player? None other than Hakeem Olajuwon of the Houston Rockets.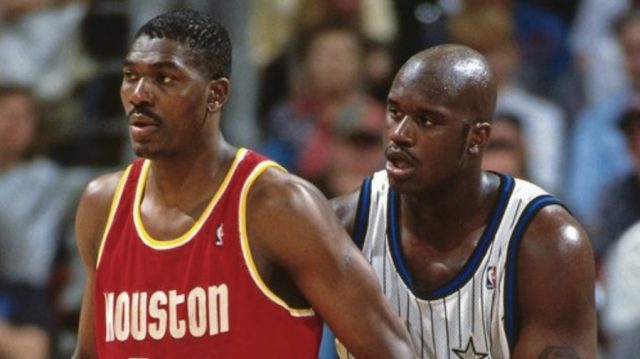 Hakeem 'The Dream' Olajuwon established himself as perhaps the NBA's best big man the second Kareem Abdul-Jabbar retired as a Laker. He would make the NBA Finals in 1994 and '95 and win back-to-back championships and Finals MVPs with those Rockets.  
Where O'Neal was all brute force and power, Hakeem was a completely different kind of big man. His moves in the paint were legendary. Watch the video below, and you'll see Shaq's explanation of why Hakeem worked that way. Hint: It was all about where he played his college hoops. 
Yes, Shaq had a few cool moves of his own, but no big moved better than Hakeem Olajuwon. The Rockets legend had an array of moves filled with pump fakes, pivots off either foot, jab steps, all mixed in with precision and decisiveness. 
On that "Open Court" video, Shaq admitted that Olajuwon was the toughest guy he had to guard. He claimed that he couldn't 'figure out' Hakeem nor could he ever intimidate him.
Olajuwon had time in the game going for him. Shaq was still playing for Orlando and was in his early days when Olajuwon was in his prime. The pair met face-to-face in the 1995 NBA Finals, a series that saw the Houston Rockets sweep the Magic. 
There had been plans for the two great big men to play each other in a televised one-on-one match. Unfortunately, that never happened, due to various conflicts and schedules. Too bad! It would have been great to see how two of the best big men to ever play the game would have looked in heads-up competition.