The "help-the-community" side of our man Shaq was on display again this week, as the big man visited a Boys and Girls Club in the Atlanta, Georgia area to check in with the kids. 
This is no ordinary Boys and Girls Club. This one is named the Shaquille O'Neal Boys and Girls Club of Henry County. Yup, he put up a large chunk of change to make it happen. 
This week, the kids that normally see their center's namesake hero got an in-person visit, and they put on a little show (and games, of course) to celebrate the big man's visit. (See the video linked below for all the details.) 
Club basketball coach Maurice Love Jr. had plenty of good things to say about O'Neal's visit. He said it was good for the young kids to get a good view of the bigger world and of opportunities, no matter a person's background: "This is a great opportunity. A lot of guys have never been outside of the area where they live. To get this exposure. To see someone who looks like them." 
As mentioned, this particular Boys and Girls Club is named for Shaq himself. He donated a million dollars to help the community of Henry County acquire the formerly empty building and turn it into the club.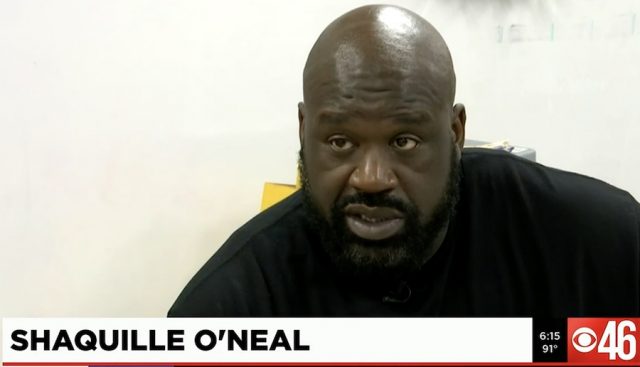 Shaq: "I am here. I do a lot of things in the community and I realized they didn't have a place where they can go. I saw this building was abandoned and I was like, 'We can use this facility for the Boys and Girls Club." 
This week was the first time O'Neal has been able to actually stop by and see how his money (and others) was spent to help local kids. After all, Shaq has a good story of his own when it comes to Boys and Girls Club facilities. He credits a local club with "keeping me out of trouble" when he was a young boy in New Jersey.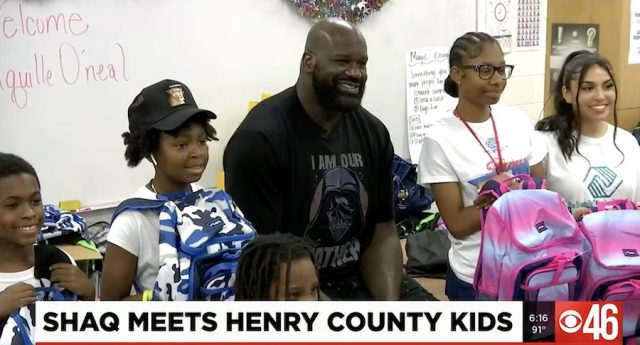 Click here for the full video. 
The Henry County club is definitely helping out the local community, just like the one from Shaq's youth helped him. Boys and Girls Club spokesman Jesse Coltrane told a local TV station, "The families face poverty and homelessness. A large percent of our families need assistance." 
Coltrane says the local club is part of several different programs to help out in the community. "With our community partners, we try and help with utilities, rent, housing, even food, job placement as well, even GED courses," he said.
Again, hats off to Shaq for putting his money where his heart is… helping out young people in several different communities around the country. Good job! 
Thanks to our friends at CBS 46 / WGCL Atlanta for info and video on this story.