The NBA Summer League has come and gone. Did you get to watch any of the games? It was pretty interesting stuff… games featuring all the draft picks and walk-on players who maybe – just maybe – have a chance to make it to the roster of a team when the new season opens in the fall. Shaq's son Shareef was part of the action with his fathers old team, the Los Angeles Lakers. What's next for Shareef O'Neal? Not sure yet…
At least one big name associated with the Lakers liked what he saw from Shareef. But does that mean a roster spot? Probably not. Former Lakers head coach Byron Scott was interviewed by TMZ Sports. He said he believes Shaquille O'Neal's son, Shareef, can still have a future in the NBA despite having a slightly less than impressive outing with the Summer League. 
Scott told TMZ Sports the young O'Neal has plenty of talent, but also has a few things to work on with his game, especially if the 22-year-old has dreams and aspirations to play in the NBA at some point. 
The Lakers and their fans have been checking out not just one, but two famous offspring during the Summer League season. Along with Shareef O'Neal, Scotty Pippe Junior was also in a Lakers uniform. The two – O'Neal and Pippen – have been the subject of comparisons since they arrived at the Lakers summer camp.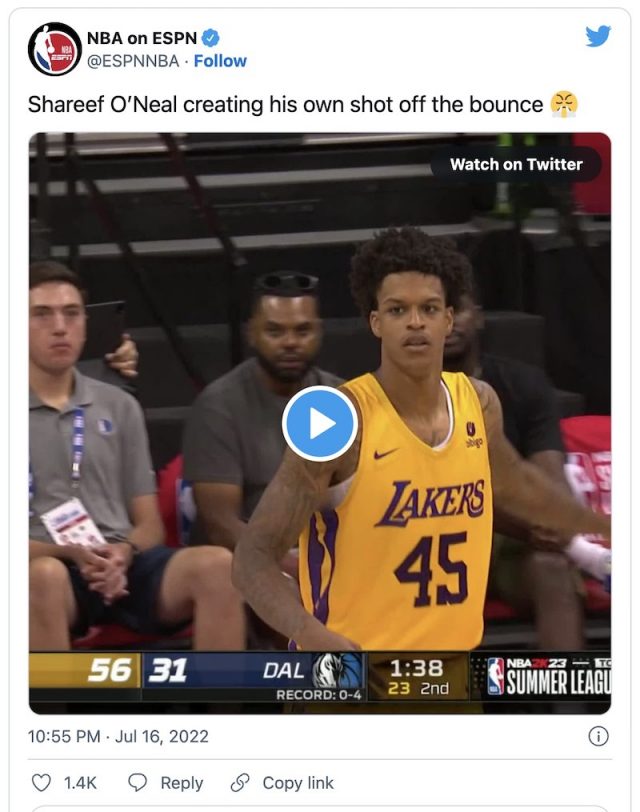 Byron Scott on Shareef: "I think he looked a little bit out of place. He (O'Neal) wasn't ready. I think he still has a little ways to go. I think the talent is there. Obviously, the athleticism is there. It's just some other little things he has to tweak. But Scotty Pippen Jr. looked really good," he added.
Shareef and Scotty have been linked together all summer — considering they are both sons of Hall of Famers and were both signed to the Lakers — but Byron thinks Scotty is ahead in his development, thanks to the time he spent in college.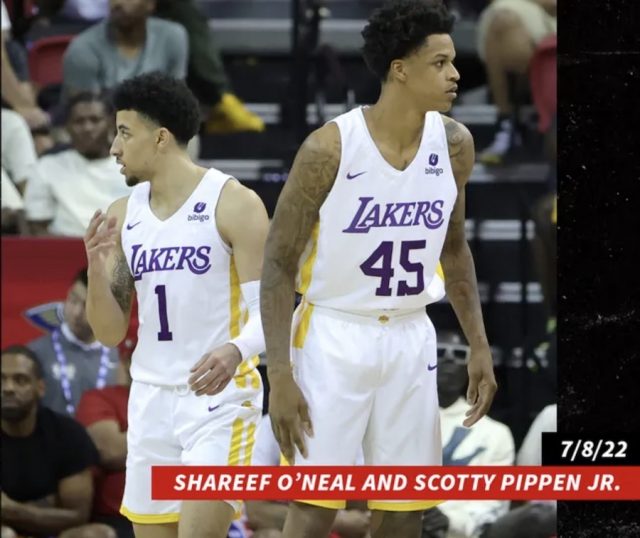 Scott once again: "Again, it goes back to showing you four years of school compared to a guy that just went a year or whatever the case may be is a big difference. Scotty is NBA ready."
Byron Scott says he and others need to remember that Shareef is still somewhat on the mend and recovery-road from heart surgery … that he's still getting back to 100 percent physical / play-ready shape. "The fact that he's not where everybody thinks he should be at this particular point is because of some of the medical conditions that he's had to deal with." Scott added, "And he's still young. Give 'em a chance!"
Will Shareef O'Neal be in an NBA uniform when the new season opens in the fall? Hard to say. The Summer League games helped show off his skills and talents, but we just don't know yet if the level of that talent rises to NBA standards. There may be some work to finish up before the next big step in the career of Shareef O'Neal.