Shareef O'Neal, the 22-year-old son of Hall of Famer Shaquille O'Neal, has found his next home for basketball… and the move takes him one step closer to the dream of playing in the NBA.
The younger O'Neal has officially signed a six-figure contract to play for a team in the NBA's "G League" – the Las Vegas Ignite. The NBA G League is the NBA's official minor league, which has the mission of preparing not only players, but coaches, officials, trainers, and front-office staff for the NBA. The league also acts as the NBA's research and development lab, where new rule variations and other upgrades can be tested.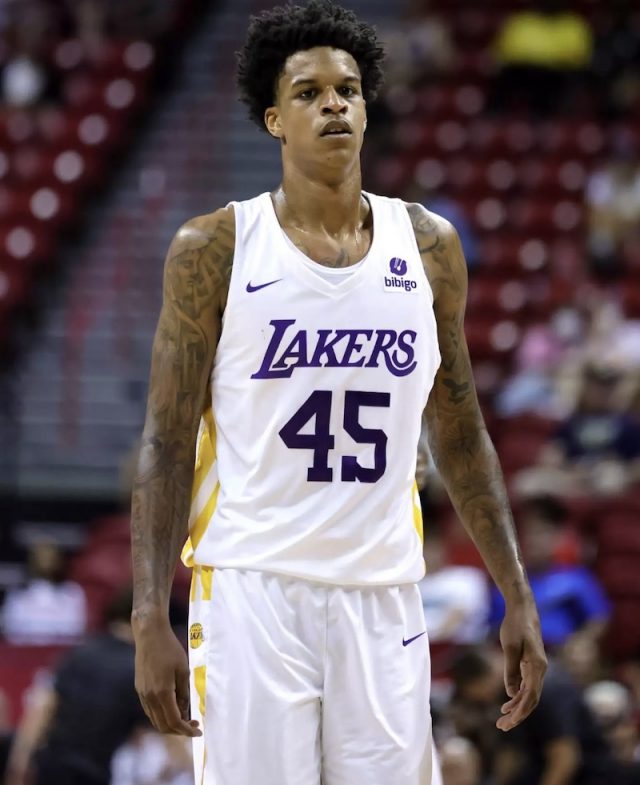 The G League has 29 teams, 28 of which have one-to-one affiliations with NBA franchises. (The Las Vegas team is not connected to any NBA franchise.) The G League expands the NBA brand to smaller markets, and gives fans the ability to see up-and-coming players in a more affordable, family-friendly atmosphere. 
The move to the G League is a good next step for O'Neal. He played in the summer league season with his fathers' former team, the LA Lakers. While he made a good contribution, analysts said he definitely had potential, yet needed more work to bring his game up to Association-level. 
Shareef confirmed the signing with the Ignite through his own social media accounts, posting "VEGAS LETS DO IT !! Thank you Ignite," on Twitter.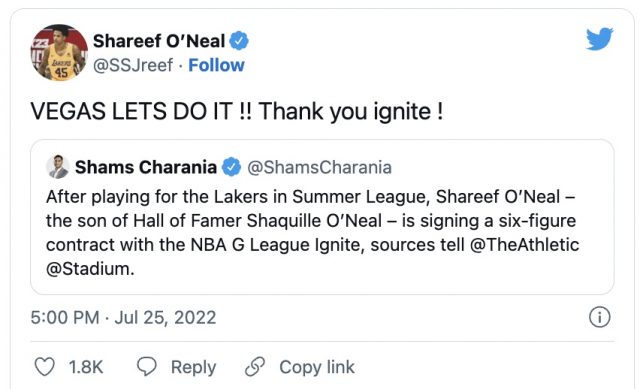 O'Neal's future Ignite teammate, American-Ukrainian player Pooh Jeter, welcomed the team's newest player on Twitter. "Yes Sirrr! Welcome to the family champ," Jeter wrote. "Let's do it," O'Neal replied in a tweet.
According to The Athletic sports website, several teams around the league were "intrigued" with O'Neal's "athleticism and pedigree" as he played those summer league games. Over that session, O'Neal averaged 4.7 points, 3.7 rebounds, and 10.9 minutes per game.
According to its website, the G League program offers NBA hopefuls a program that "focuses on high-level competition and accelerated on-court development for players who are beginning their professional careers." Additionally, Ignite and other G League teams offer athletes useful training in areas such as financial literacy and life skills.
As reported here on the ShaqFu Radio blog, father and son O'Neal had differing opinions about Shareef entering the NBA Draft. Shareef told reporters before the Draft: "He wanted me to stay in school. He knows I'm working out with teams. But I'm not going to lie, we ain't talked about this. I'm kind of just going through it."
In an interview with ESPN, the younger O'Neal said, "I know he probably doesn't want me saying this, but sorry. We're both grown, we'll get past it." Shareef said he wanted to "better himself through" pre-draft workouts with teams in the league.
There's no doubt Shareef's journey to potentially playing in the NBA is quite a different road than that taken by his father. After his stellar college days at LSU, Shaq was drafted with the Number One pick by the Orlando Magic in 1992. He then went on to immediately become a superstar in the Association, especially during his time with the Lakers. 
Will Shareef make the NBA one day? Time will tell. Right now, he's in a good place to learn, grow and add to his skills. Here at the ShaqFu Radio blog, we're wishing him nothing but the best.