Where will superstar KD – Kevin Durant – play next season? The Brooklyn Nets star will be talking to his current team owner this week. Will he stay with the Nets? Probably not…
Even with Durant talking to Nets owner Joe Tsai, it seems to be just a formality. KD has already indicated he wants out of New York. Trouble is, the Nets are making some pretty crazy demands for a potential trade, and that's severely limiting the number of teams that may want to make a deal. 
One of the names that has come up as a potential landing spot for Durant is Boston. On a recent edition of the Rich Eisen show and podcast, our man Shaq talked about the rumors that the Boston Celtics were interested in KD. O'Neal made it clear – he doesn't believe it would be worth it for Boston to try to trade for Durant. 
In fact, O'Neal thinks it's probably best for the Celtics just to stick with their current roster. After all, they did make a nice showing in the NBA Finals this season. Yes, they did get beaten by the Warriors, but it was a good, competitive series. Shaq really likes what he sees in young players like Boston's Jaylen Brown, and says there's no need to bring in KD. 
Shaq said it seemed to him that Durant was trying to take "the easy way out" and look for a team that could contend for an NBA Finals Championship: "When you put a house together, you should live in it. You, as a leader, should make it work, but you don't want to make it work, I guess. … You know he's probably trying to get to a contender. It's easier that way."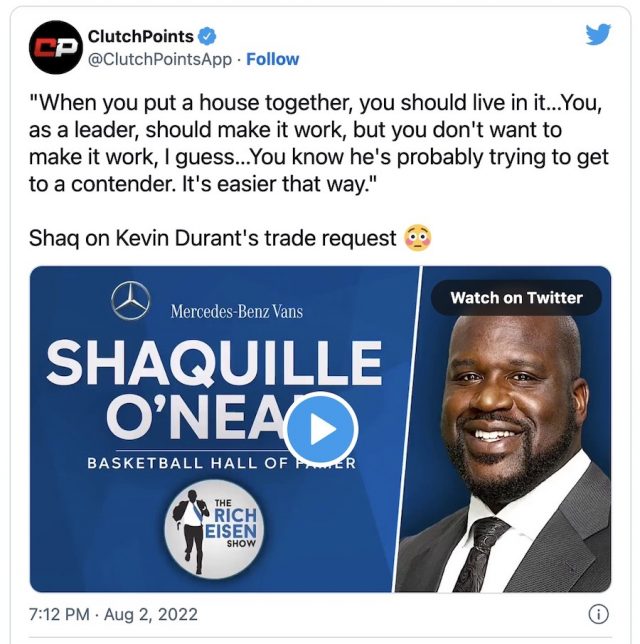 Should he secure a trade this offseason, it won't be the first time for KD. A few years ago, he left the Oklahoma City Thunder to join Stephen Curry and the Golden State Warriors. While the Warriors were already very good when he arrived, Durant helped the Dubs to two more titles.
Seems like O'Neal is thinking KD is shopping around now to do exactly the same thing as when he went out west. Rather than rebuilding (and sticking with) the Nets, he's looking for a team that's going to be an immediate contender next season. Can't really blame him. Father time continues to move along. Just like LeBron James, the end of his career is on the horizon. 
Would the Celtics do something big and bold, like perhaps move Jaylen Brown as part of a deal for KD? Shaq would not be happy about that: "No, not at all," O'Neal said. "You have a young nucleus that you can build and you can trust; I would keep [Jaylen Brown]. I don't know what everyone else was watching, but Jaylen was hanging pretty tough with Durant. Looked like that to me. So, no. The answer is no."
To emphasize it, even before Rich Eisen could pivot to his next question, O'Neal clarified his thoughts on a Durant-Celtics trade even further. "Excuse me, the answer is hell no."
Time will tell where KD lands next season. We'll let you know…