NFL and college football seasons: Just getting started. Baseball: rounding third and heading for home. NBA: Still a bit off in the distance. That can mean only one thing… time for some off-season fun comparing players across hoops history. (Just to fill the time until the season starts, of course…)
Big tip o' the hat to our friends at Fadeawayworld.com for this one: A new comparison of current Los Angeles Lakers superstar LeBron James and our very own big man, Shaquille O'Neal. How do they stack up? Read on…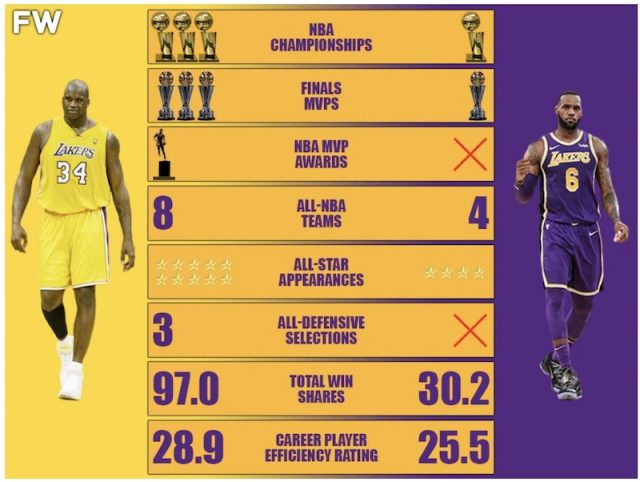 Take a quick look at the graphic below (again, thanks to Fadeawayworld.com for the image) or read on. Either way, it's pretty clear that Shaq has the better stat-set. Across his career with multiple teams, Shaq one 4 NBA championships, 3 of them coming with the Lakers. In addition, he won 3 Finals MVP awards with the Lakers and an MVP award in the year 2000.
Now King James is no slouch, of course. He's also a 4-time NBA champion with 4 Finals MVPs and 4 MVP awards, James did help bring a championship to the Lakers in 2020, and his other rings are from Cleveland and Miami, so he's spread it around a bit more. 
Of course LeBron is still playing, and has time to continue to build stats and maybe win another ring. Shaq's playing days are obviously over. He put in 8 seasons with the Lakers, while James will be starting his 5th season with the purple and gold this fall. 
With this latest comparison, the two legends have some interesting numbers, yet at the bottom line, it seems our man Shaq (so far, anyway) has the stats edge over LeBron. Here's some of the basic numbers, and a couple of interesting stat categories we hadn't heard before: 
First and foremost, the rings. In terms of championships, Shaquille O'Neal has the edge when it comes to his time with the Lakers. Shaq won 3 rings during his time in L.A., while LeBron has (so far), one.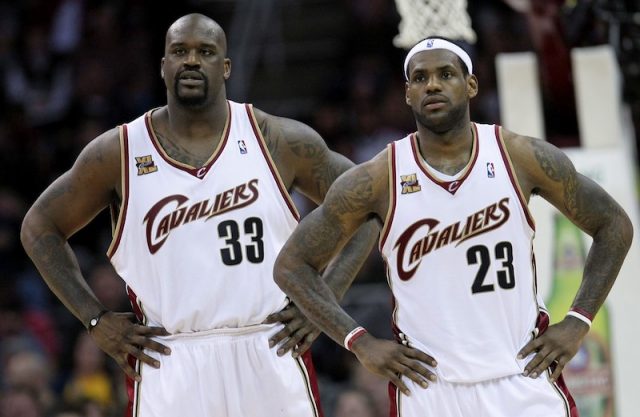 Other stats are equally impressive. In his first year with the Lakers, he won the regular-season AND Finals MVP awards. As mentioned, LeBron has won 4 titles with 3 different teams, with multiple Finals runs with the Miami Heat and Cleveland Cavaliers. 
His NBA Championship win with the Lakers was during that infamous 2020 "Bubble" season. Still, there's probably little – if any – argument that James was the best player in the world for that 2020 season. 
One of the new interesting stats unearthed for the story is called "Total Win Shares." It's a stat that tries to allocate a team's wins for each player on the roster. For example, Kareem Abdul-Jabbar owns the single-season record for Win Shares with 25.4 during 1971-72 on a Milwaukee Bucks team that won 63 games. In terms of contributing to a winning side and helping his side to win games consistently, it is obvious Shaquille O'Neal has a better win shares rating than LeBron James. 
As for LeBron, not so much. He missed the playoffs twice in the four years he played with the Lakers with injury issues, and obviously did not win enough games. 
Interesting stuff, for sure! As we said, the new season is just around the corner, so we'll have to wait and see about LeBron's contribution to the Lakers this year. We know he's always got 100% effort, but Father Time is beginning to catch up with the King, for sure.