Shaq's restaurant chain, Big Chicken, is coming to Florida. We here at the offices of the ShaqFu Radio blog couldn't be more excited… Yes, our office is in the Sunshine State. 
Over the past year or so, businessman Shaq has been on a mission to expand his own personal brand of fast-food awesomeness. There are new stores going in in sports arenas coast-to-coast. The new arena for the New York Islanders, and the arena for the Seattle Kraken, both NHL teams. 
In addition, new freestanding stores have been announced in several locations, including the big cities in Texas. Now comes word that several locations are being scouted in Florida. 
The chain had an interesting beginning. The very first Big Chicken restaurant was actually on board a cruise ship in the Carnival lineup. ShaqFu history fans will know that our man is also a commercial spokesman for the cruise lines, so it was an interesting partnership. 
While O'Neal has lots of different business connections, interests and investments, this one is probably one of his favorites. Shaq is one of the main owners of Big Chicken, and his influence is on display all over the restaurant, especially in the menu of Shaq-inspired sandwiches.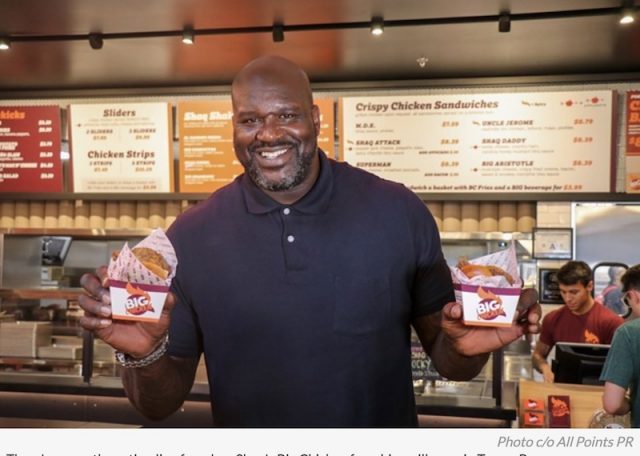 Now it's time for Florida fast-foodies to find out about Big Chicken. The company that owns the chain has just announced a big (some might say Shaq-sized) deal with Florida-based commercial hospitality development company DMD Ventures. 
DMD is definitely super-sizing their plans to launch Big Chicken in the Sunshine State, with announced plans to put restaurants in and around places like Orlando, West Palm Beach, Fort Lauderdale, Miami and Tampa Bay.
This isn't the only deal to bring Big Chicken to Florida. Along with this latest deal to bring the chain to central and south Florida, Big Chicken also made a recent franchising deal with Panhandle Restaurant Group to bring over 40 locations to the northern half of the state.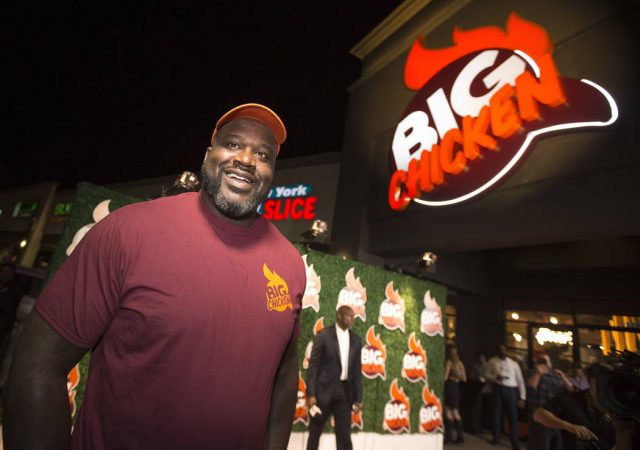 Now, don't start waiting in line just yet (like some people do outside of other soon-to-be-opened restaurants…) There's currently no timeline in place for when we'll be seeing the first Big Chicken in Florida, or even where it will be. 
Although Big Chicken's sandwiches look tiny in Shaq's massive hands, the franchise is known for its stacked specialty handhelds like the "Big & Sloppy," with mac and cheese, crispy fried onions and garlic BBQ aioli, and the "Uncle Jerome" with Nashville hot chicken, lettuce, mayo and pickles. 
Founded in 2018, Big Chicken is a joint effort from  Las Vegas-based JRS Hospitality, marketing and development company Authentic Brands Group, and of course, Shaq himself. There are currently over 200 Big Chicken locations being developed across the country, alongside Florida's recently-announced franchises.
In addition to its various storefronts, Big Chicken operates several different ghost kitchens, meaning they provide food products to various outlets, without an official Big Chicken storefront.