If you've been following hoops for any length of time – or just know some of the OG names – then this is a very cool and interesting story. Even if you don't know NBA history, you may know the name Dennis Rodman. He was quite an interesting character, to say the least. Another interesting fun-fact: He and Shaq crossed paths for a short time in their careers. Shaq doesn't have good memories. 
Back in the day, Rodman was a well-traveled player, with stints on the "Bad Boys" Detroit Pistons, and also the San Antonio Spurs and of course the legendary Chicago Bulls, back in Micheal Jordan's playing days.
But like we said, Rodman and Shaq also spent some time together in Los Angeles Lakers uniforms. It was during the 1998-1999 season. He only played 23 games before being released in the following offseason. 
Rodman was famous – in his own way – for doing some pretty crazy stuff. He definitely made a splash in the Association with his wild, multi-colored hair styles. He made headlines once for showing up on the Oprah Winfrey show without shoes. For Rodman, that was actually pretty tame.  
Entertaining for the crowds, yes. Great basketball player? Hard to say. He had some definite skills, especially on defense. Still, there were issues, too. Michael Jordan once talked about how Rodman would make the Bulls do extra work in practice so he could get back in shape after missing some time.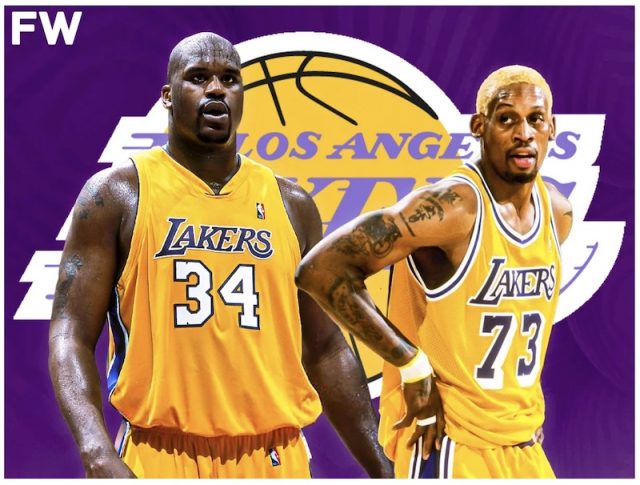 The big stars for the Lakers at the time were of course Shaq and Kobe. O'Neal was very much entering his prime at that time, and Rodman's behavior wasn't exactly the best for team bonding and on-court success. 
On the most recent edition of his very own "Big Podcast with Shaq," O'Neal talked about the highs and the lows of having Rodman as a teammate. Like we said, Rodman was a defensive beast, averaging 11 rebounds per game with the Lakers. 
On the other hand, as a real teammate, Rodman didn't get very good grades. According to Shaq, he in fact ranks at the bottom of Laker teammates. 
Here's what he had to say on the podcast: "Worst teammate? Dennis Rodman. He was a great player, but he made it hard. Like when you try to corral the guys together and the people above you letting this one guy do whatever he wants."
O'Neal had some "So we had to be there an hour before the game, he come in 15 minutes before the game eating chicken and rice. While the coaches are talking, he would jump in the shower. Cold shower. Come and give you 15-20 rebounds. After the game, he don't take a shower and be in a club with girls that look like you."
That was kinda, sorta the way Rodman worked through his career. Teams had to bend a bit to his way of working. Was it worth it? Hard to say. For Shaq, it seemed the juice wasn't really worth the squeeze.