Our man Shaq has wrapped up his overseas travel for the summer. After all, the NBA season is coming up fast. Traveling "down under" to Australia, O'Neal lent his voice to an interesting and upcoming social movement in that country. 
The former NBA superstar says he's going to help with getting people involved in a movement to reform the way the Australian government communicates with and deals with native (also called "indigenous") people and groups. 
Plans call for the Australian government to give a bigger voice to indigenous people in the country's governing body, the Parliament. Aussie Prime Minister Anthony Albanese announced the plans while visiting with Shaq just before O'Neal jetted back to the U.S. last week (as of this writing). 
Prime Minister Albanese's Labor Party government is seeking a referendum, needed to change the country's constitution. Plans are to officially recognize indigenous people in the constitution and making sure the government consults with them in matters that affect native peoples' lives.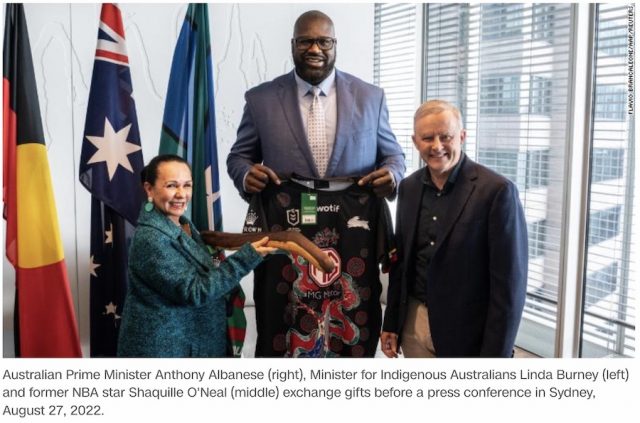 Once the plans are complete, there will be a national vote on the issues, so it can be added to the Australian constitution. 
In typical Shaq terms, he was all about lending a helping hand. "I'm here in your country, whatever you need from me you just let me know," O'Neal told Albanese during a news conference in Sydney.
PM Albanese had good things to say about O'Neal's interest and work in social justice causes in America. He talked about Shaq's track record of "lifting people up who are marginalized."
"We want to build the broadest possible support and we want to engage with people who can connect with young people in particular but with all sections of society," Albanese said. "Shaq has that record of … bringing people together of different backgrounds which is consistent with our approach."
For his part, Shaq will put his well-known personality to work on the task. He's agreed to do some videos on the issue that will be broadcast across Australia. 
Australia's indigenous people have worked for years to be officially recognized in the country, and to correct various social and racial injustices that have been part of Australian society since the country was colonized by the Europeans way back in the 1700s. Australia's current national constitution, which came into effect in 1901, does not recognize the country's Indigenous people.