When you're trying to break into the NBA, it might be a good idea to get some inside information and tips from a former superstar, right? Well, you would think so. But for one father and son combination, things aren't quite that simple. 
Surprise! We're talking about NBA legend Shaquille O'Neal and his son Shareeff. This summer, the younger O'Neal played in the NBA summer league out of Las Vegas… and even played for his father's former team, the Lakers.
NBA analysts and scouts said Shareef played well, but not well enough to score a contract or offer from an Association team. He did end up signing on with the NBA's G League team, the Las Vegas Ignite. The G League is the NBA's developmental league, where future players, coaches and even officials can get some great training and professional growth. 
In a recent interview with the USA Today newspaper and website, father Shaquille O'Neal talked about his son's path and journey when it comes to auditioning (and hopefully landing) in the big leagues.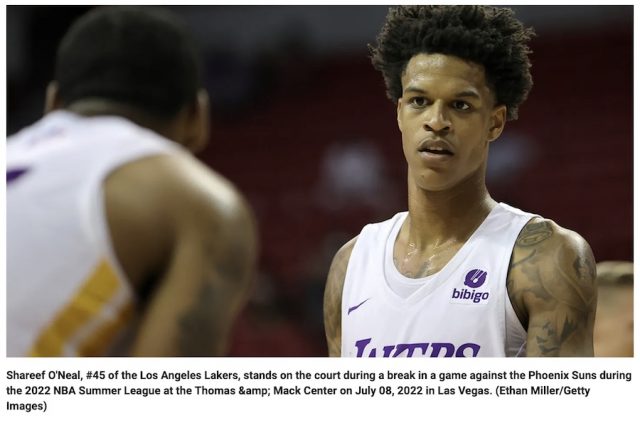 Obviously, Shaq talked about the way it was oh-so-very different for him when he entered the league as the Number One draft pick. When you're one of the absolute top college prospects (if not the very top), it's going to be a lot easier to start playing with the big names right away. 
In the past, Shaq has talked about how he tried to dissuade his son from trying to enter the NBA when dad thought it was a bit "too soon." Shareef has also talked about the differences between him and his father, and was OK with "working it out" between the two men. 
Shaq says he still thinks it's a very different story when it comes to him and his son: "I tell him all the time, 'You are never going to be me. Don't let people tell you that you're me because you're not. Your father is crazy. Your father is an idiot. Your father was a monster on the court. You're not like that. Develop your game. Develop your style. It's fortunate and unfortunate that you'll have to live with that name. But create your own way,'" 
Sure, it's obvious. The two are very, very different players. Shaq seems to think and feel that by pointing out those differences, it should take some of the pressure off his son, and allow him to become his own kind of player and his own man. 
Shaq: "Hopefully, that takes the pressure off because I was crazy. I had to make it. He don't really have to make it. But I had to make it. So I ran through walls because my motivation was different. I only had one thing: I had to buy my mom a house. Even if I just played for two years, as long as that lady got a new house, I was happy. He has to find his motivation and go for it."
Our man Shaq was certainly one of the most dominant players to ever take to the hardwood – maybe the GOAT in that particular category. Over his career, he ended up with numerous awards and four NBA Championship rings. 
As for Shareef, it's been very different. He played three seasons in college between UCLA and LSU. He averaged 2.6 points and 3 rebounds per game in 37 games. He never made a start in college. He's definitely got his work cut out, as he continues to pursue a shot at a full-on NBA contract.