A big part of NBA history and legacy is the stories of those popular "super-duos" on teams down the years. Certainly there's none bigger than our man Shaq and his superstar LA Lakers teammate, Kobe Bryant. 
On a recent podcast and video, O'Neal was asked an interesting question, one which we here at the ShaqFu Radio blog hadn't heard asked before… and we think we've heard pretty much everything! 
On a recent edition of the PBD Podcast, interviewer Patrick Bet-David talked about work ethic in sports, and in life in general. He asked O'Neal directly, what kind of player would Shaq have been if he'd had Kobe's work ethic? 
To his credit, Shaq talked openly about the two very different personalities, and the place both men were in their lives and NBA careers at the time they paired up on the Lakers. Shaq offered a simple yet smart response, and it definitely showed Shaq's growth over the years and what his relationship with Kobe meant to him. 
NBA history-wise, Shaquille O'Neal and Kobe Bryant were certainly one of the greatest duos in the game. They were pretty much unstoppable when they played together. Their relationship also made for interesting headlines and back stories. Over the years, they went from hungry co-stars to superstars that hated one another, to eventually reconciling.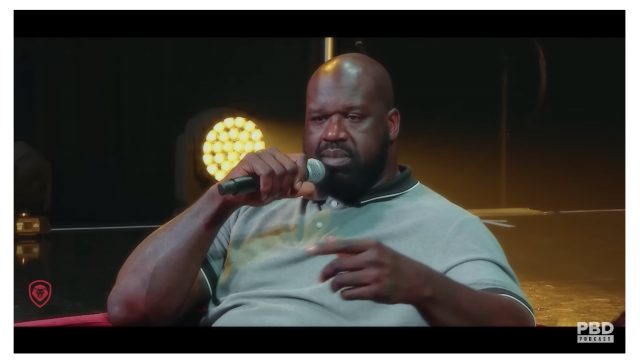 Back when they were teammates, Kobe did not hide the fact that he believed Shaq should have been working harder. As for Kobe himself, his deep-rooted work ethic inspired a whole generation of not only other NBA stars, but his fans as well. 
In a years-old interview, Kobe talked about what "could have been" if O'Neal had the same work ethic as he did:
"He'd be the greatest of all time. He'd be the first to tell you that. This guy was a force like I had never seen. It was crazy. Guy that size, generally guys that size are a little timid. They don't wanna be tall, they don't wanna be big. He did not care. He was mean, he was nasty, he was competitive, he was vindictive. I wish he was in the gym, I would have had f***ing 12 rings."
Now, years later, here's Shaq being asked about work ethic, and differences – if any – it would have made for his NBA career. Shaq said no matter what, he probably would still have been the same guy: 
"I would've been Shaq. Kobe was a beast, nobody works harder than him. But I think you can find success in many ways. You know for me I had to; 8 hours of work, 8 hours of business, 8 hours of family. See Kobe was just getting married and getting into his family, I'm already 4 kids in." 
"So after I put in my 2-3 hours of work, now I have to be Daddy, now I have to be husband, now I have to take care of business. And mentally I'm so strong I don't need to workout for these bums anyway, that's what I'm thinking. So I think it would've been a better question if we had no championships, no MVPs and I would've been an absolute failure. But the resume you just read, that was a hell of a resume, sir."
Like we said, Shaq has had time to mellow (if only a bit) with age, and with the additional wisdom that time brings. Shaq knows what he brought to the game. He could have done things differently, of course. We all have those moments in life when things could have gone in a different direction. But for Shaq, he's happy with his NBA story. Perhaps he could have done things differently, but as he said, then he wouldn't be Shaquille O'Neal.