It's been a minute since our man Shaq stepped into the big-time wrestling ring. Now comes word that his next appearance could be in the works… and could feature O'Neal battling one of the biggest names in the wrestling game. 
If you set the WayBack Machine way, way back, you know that Shaq first stepped into the ring for his very first appearance back in 2016. That was for the WWE WrestleMania show at one of its stops in Texas.
The full name of that event was the 3rd Annual Andre the Giant Memorial Battle Royal. It happened at AT&T Stadium in Dallas, in front of a small crowd of about 100,000 fans! That was Shaq's first big introduction to big-time wrestling, and his introduction to wrestler Paul Wight – also known by his very familiar wrestling name – The Big Show. 
Seems the wrestling world and O'Neal himself enjoyed the experience, and the planning got started to bring the former NBA legend back to the squared circle. For various reasons, that return didn't happen for about five years, with the AEW wrestling team.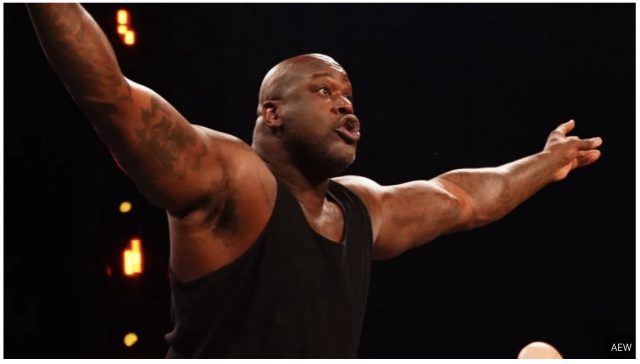 The return started back in November, 2020 on the AEW program "Dynamite," where Jade Cargill teased that O'Neal was coming to AEW. The back-stage maneuvering eventually led to a tag-team match featuring Shaq and Cargill winning out against Cody Rhodes and Red Velvet.
So here we are, with another match apparently in the works. This one featuring Shaq and The Big Show, something fans have been talking about and asking for for years. 
Recently, wrestler Diamond Sheik has taken to social media with a video – sharing screen time with Shaq- showing off what he's calling the "Billion Dollar Belt." At the end of the video, Shaq issued an intriguing challenge, calling for him and Diamond Sheik to face Wight and 'whoever else you want'.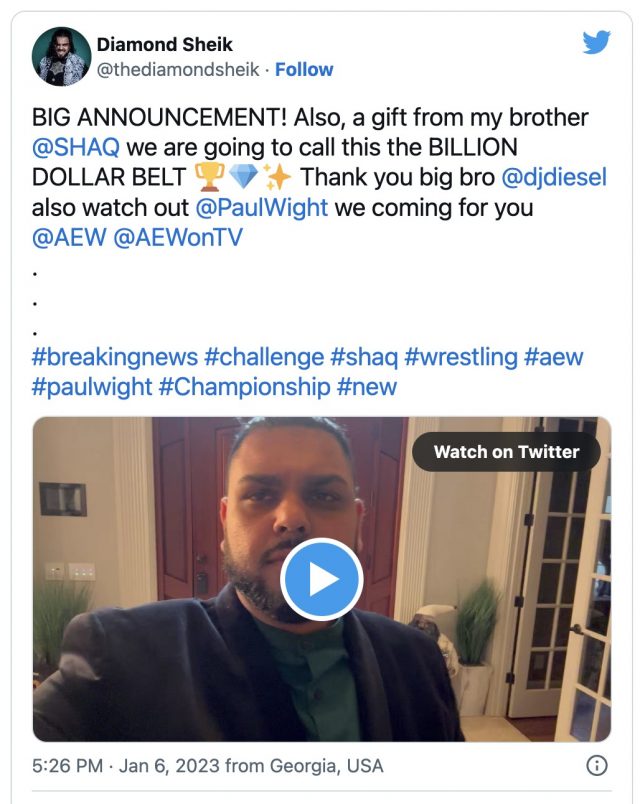 Not surprisingly, diamonds are a big thing for Diamond Sheik, who personally designed the AEW Dynamite Diamond Ring. He currently trains at the Nightmare Factory, the wrestling school owned by QT Marshall and Cody Rhodes.
It's been a while since Paul Wight last wrestled as well. That happened back in March of last year to record several programs for the AEW Dark: Elevation series of matches.
As for the teaser video, it shows Diamond Sheik visiting Shaq at home, showing off his newly-designed Billion Dollar Belt. Shaq pitched a tag team bout where he teams with Sheik to take on Wight and a partner of his choosing.
"You know who I am. I'm the man who beat Cody Rhodes. You're lucky you're training with Cody. Anyways, I want to deliver two messages. Number one, nobody messes with The Diamond Sheik, and two, to present this new Diamond Championship belt."
Shaq even got in a little clowning, showing some moves on The Diamond Sheik. Shaq continued, "Cody, whoever else wants it, Big Show. As a matter of fact, oh no, he's in LA. Tell you what, Diamond Sheik and Shaq vs. Big Show and whoever else you want. Let's go, AEW."
Will it happen? We hope so! Always fun to see the big man among other powerful big men… and to see the amazing action, as well. Stay tuned!