It's a new year – so it's time for the first-of-2023 posts on one of the most popular questions superfans of the NBA throw around from time to time: Who's on your all-time all-star lineup? 
Of course that question is a great conversation starter (argument starter?) among any group of hoops fans. Let's also not forget the other big issue: Greatest of all time – MJ or LeBron? Practically impossible to settle once and for all, yet still juicy every time there's a chance to hash it out. 
Due to changes in the game and the way it's played, it's almost impossible to compare – apples to apples, as they say – superstars and super teams of different NBA generations. Still, some things can be compared. Game and career stats, for example. And there's the simple "eyeball test." Who made the biggest, baddest impression on the game at the time they played. 
In yet the latest example of cross-generation comparisons, our man Shaq has weighed in with a great pair of lineups. Of course he included himself! Who made the squads? Check it out: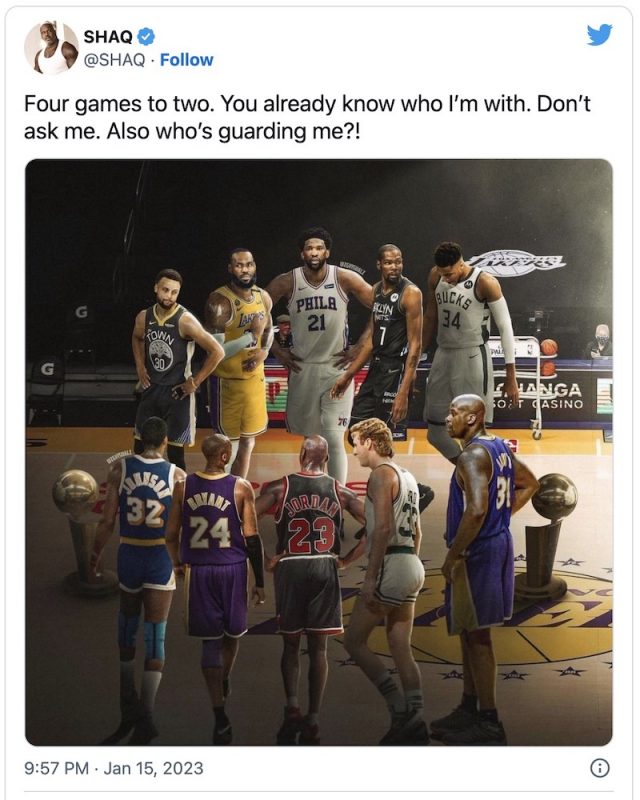 Just this week, O'Neal took to social media to post a composite photo (nice Photoshop work!) of two potential all-star lineups – one made up of current superstars, the other from the past. The modern team was impressive: LeBron James, Stephen Curry, Kevin Durant, Giannis Antetokounmpo and Joel Embiid.
The other team was an all-star group from Shaq's era, roughly the 1980s to 90s. We're talking Michael Jordan, Kobe Bryant, Magic Johnson, Larry Bird and of course Shaq himself. 
No surprise, O'Neal was outspoken over which lineup he preferred. He went as far as to say his "oldies" team would take the new guys in six games of a for-the-ages seven-game series.
"Four games to two. You already know who I'm with. Don't ask me. Also… who's guarding me?!" O'Neal wrote.
Good question! On the squad of the present, it's most likely that job would go to 76ers star Joel Embiid. It would be interesting to watch, that's for sure! Could Embiid be effective against O'Neal? Hard to say… Shaq was no doubt one of the most physically dominant players of his time, or all time, in the NBA. The other candidate might be Giannis Antetokounmpo. Either way, it would be quite a show!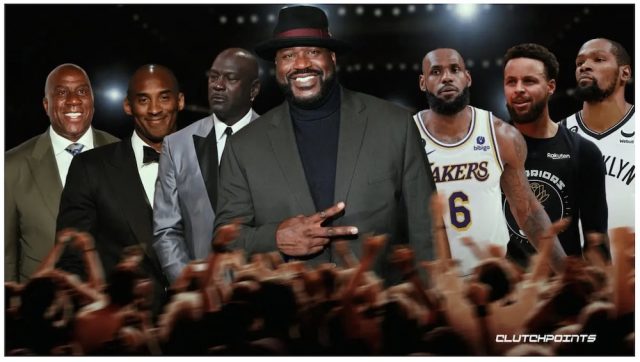 Some day, some computer geek will probably come up with a full-on virtual game featuring these or other all-time greats. It'll be fun to watch, for sure. Still, it's equally great to have the privilege of watching the greats of the game, in all generations, as the years and seasons come and go. 
Thanks to our friends at www.ClutchPoints.com for the graphics and background reporting on this story.