NBA Hall of Famers… in Taiwan?!? Guess it's a thing now. A few notable names have made the trip across the Pacific and are making nice money playing in the T1 League of the island nation of Taiwan. Maybe the biggest name is former Los Angeles Lakers center Dwight Howard. He made the move, and it definitely got everyone's attention. 
And by everyone, of course we mean Shaq. The big man has talked about Howard's move more than once, and he took on the topic once again on his most recent podcast, "The Big Podcast With Shaq." 
What got the attention this time around? Well, it seems when other former NBA'ers show up to play in Taiwan, they give Howard a run for the money. And then again, maybe one of the more dominant big men in recent hoops history (not all time, like O'Neal…) is – shall we say – coasting at this point in his career?
Howard started off his T1 league career with a bang, showing off with moves that used to get the LA crowds cheering, too. Still, when another former US player showed up, the performance faded a bit. 
That other NBA player is former Sacramento Kings center Sim Bhullar. Yeah, we don't remember hearing much – if anything – about him either. After seeing some of Bhullar's highlights from a recent T1 league matchup against Howard, Shaq had an interesting comment on social media. (See the screengrab below.)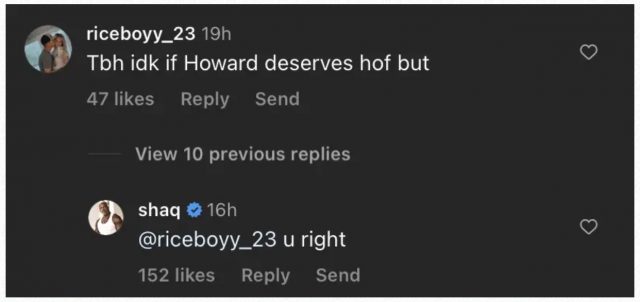 When someone posted that they didn't know about Howard's chances of making the Hall of Fame after a poor performance, O'Neal jumped in and agreed. 
No surprise really, that Shaq thinks that way. He's never been shy about slinging criticism at Howard. After Howard's first couple of games in Taiwan, the 15-time All-Star (Shaq, that is), came right out and said it: He wasn't impressed. 
Shaq: "He's supposed to have 30 points playing against dudes 5'8. This league reminds me of the Life Time Fitness league every Saturday when I go work out on Saturday."
As of this post, Howard has played six games in Taiwan so far and is averaging a decent – but not stellar – 23.8 points, 12.8 rebounds, 4.8 assists and 1.3 blocks per game.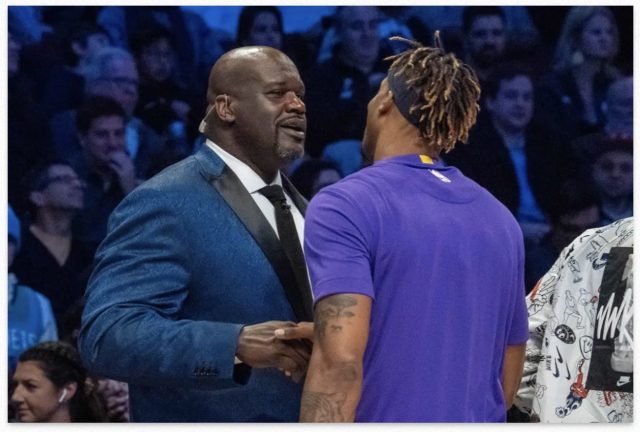 Now, we should say that because of his many accomplishments in the NBA stateside, he's probably got a really, really good chance of being eventually to the Hall of Fame. Stats compiled by Basketball Reference rate his chances at near one hundred percent, and there are plenty of fans who would agree with that assessment. 
How about this Bhullar guy? Well, he had only three NBA appearances to his American professional career. He is the answer to a hoops trivia question, however. He's the first-ever player of Indian descent to play in the league. And while he did get some time in the NBA spotlight, he's actually been much more of a standard in the Taiwanese league.
Will Howard respond? We'll have to see. In the past, DW has never been shy about responding to Shaq… he even went as far as to challenge O'Neal to a wrestling match late last year. We'd pony up the pay-per-view for that one!