Big Chicken is getting bigger… and yet again, our man Shaq is finding new and interesting places to put his favorite eating place. Headed for Kansas City? Heads up! 
Followers of the ShaqFu Radio blog will know that the Big Chicken chain is partially owned in none other than Shaq O'Neal. Founded back in 2018, the fast-food chain is owned and backed by some big names in the business: JRS Hospitality, a well-known ownership group based in Las Vegas… Authentic Brands Group, a multi-national, multi-billion-dollar brand development, marketing and entertainment company… and O'Neal himself. 
Now, plans have been revealed to put the next Big Chicken outlet inside the currently under-construction new airport terminal in Kansas City, Missouri. Seems as though Big Chicken is making a name for itself by setting up shop (or shops) in some new and interesting locations.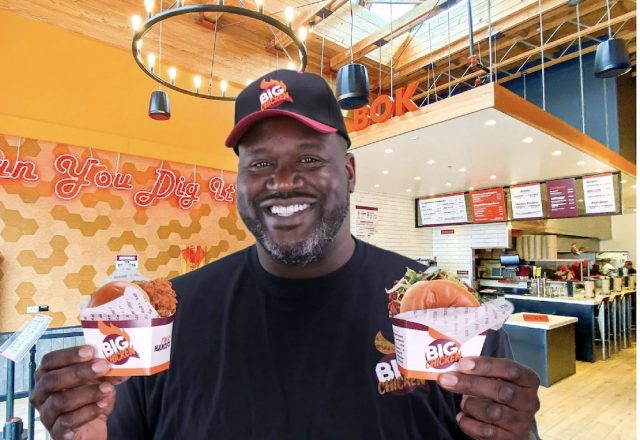 Past posts here on the blog have detailed one of the original Big Chicken locations… it's on a Carnival Cruise Lines ship! Another – and this may be the most "normal" location of them all – is on the Las Vegas Strip. And then just last year, another Big Chicken opened in the Climate Pledge Arena, home of the Seattle Kraken NHL team.
On the Big Chicken website, the restaurant boasts of what it calls Big food… big flavor… big fun. We're sure our man Shaq has a lot to do with the fun quotient. After all, he's been known in the past as the CFO – Chief Fun Officer – for Carnival Cruise Lines. 
In the kitchen, Big Chicken fuses O'Neal's home-cooked childhood favorites with trendy and popular flavors out there today. From crispy chicken sandwiches and tenders to Cheez-It® crusted mac n' cheese and hand-crafted ice cream shakes, each menu item tells a story all while offering guests an inside look into the life and personality of Shaquille O'Neal.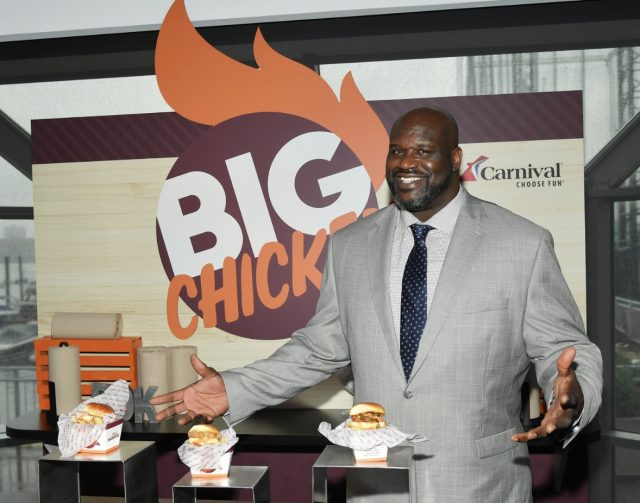 Shaq's business empire continues to expand. Regular readers of the ShaqFu Radio blog know that O'Neal has leveraged his post-NBA career popularity by becoming a spokesman and commercial / marketing partner to a lot of different brands, including (as we've already mentioned), Carnival Cruise Lines, along with The General Insurance company, and others. 
He's also deeply involved in several businesses both on and off TV and the internet. Along with being a regular on TV commercials for Papa John's Pizza, O'Neal is also on the Board of Directors for the company. He also owns several of the company's franchise stores, mainly in the Atlanta area.
With the Big Chicken restaurant chain, Shaq has jumped into owning and operating his own business, not just serving as a marketing partner. In KC, the new terminal is still in the works, but we're sure Big Chicken fans can't wait! We've said it before and we'll say it again… Time now to see where the Big Chicken lands next!