Wow… what a night! If you live on the east coast of the US, you probably missed it. It was late into the night that Los Angeles Lakers superstar LeBron James did it… breaking the longstanding record for the NBA's all-time top scorer. 
But if you were awake – or catch the DVR replay, as we're doing here in the offices of the ShaqFu Radio blog – you saw the historic moment when the 38 year-old James hit a fadeaway jumper to move into the number one spot on the all-time scoring list, ahead of another Lakers luminary, Kareem Abdul-Jabbar. 
The TNT network was covering the game, giving our man Shaq and his fellow commentators a front-row seat to history in the making. In powerful, touching post-game interviews with both LeBron and Kareem, O'Neal was left in tears. 
O'Neal spent some time talking with King James. The two superstars were teammates for a time, with the Cleveland Cavaliers for the 2009-10 season. Shaq told LeBron: "Congratulations. I can remember coming to see you play in high school, 18 years old. I know what type of person you are, I know what type of player you are."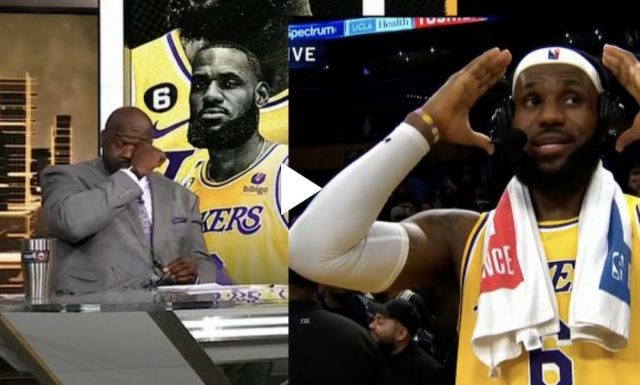 O'Neal himself occupies the number eight spot on the all-time top scorers list. Talking to James, he had one important question: "Does this now make you the greatest player of all time? Are you now the GOAT?"
James tried to deflect the question in the moment, saying, "I'm going to let everybody else decide who that is or just talk about it, it's great barbershop talk."
But Shaq wouldn't let go, shouting, "I want to hear you say it! Say it Bron! Say it with your chest! Say it Bron Bron!"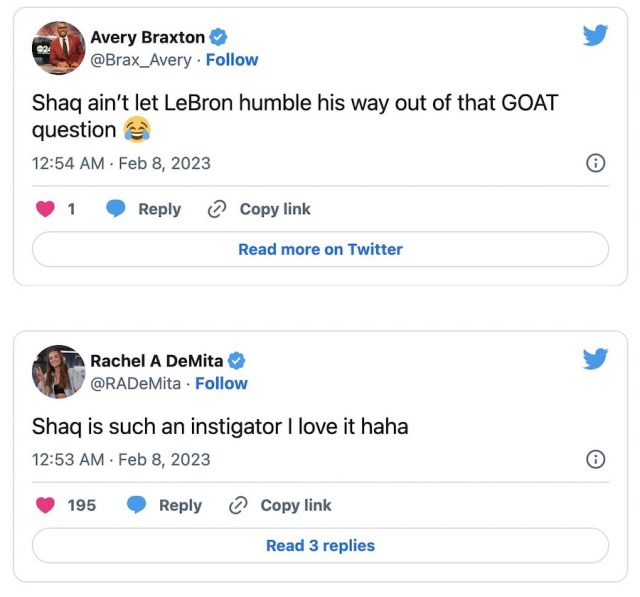 James did give in a bit, offering a strong answer to Shaq: "Listen big fella, for me personally, I'm going to take myself against anybody that's ever played this game. But everyone's gonna have their favorite … I know what I've brought to the table, what I bring to the table every single night and what I can do out on this floor. I always feel like I'm the best to ever play this game. But there are so many other great ones and I'm happy to just be a part of their journey."
As we said, James took the record from all-time NBA legend Kareem Abdul-Jabbar, who was in attendance at the game. Shaq also took a few moments to talk to the fellow LA legend, and it made for more emotional television. 
As O'Neal and the other hosts prepared to end his interview, Abdul-Jabbar interrupted to say: "I want to tell Shaq, I asked for you specifically this evening. Because you felt that I was ashamed of you or ignoring you. That would never be the case. You showed them what you were all about, the way you crushed all the centers in the league for a couple of years there.
Kareem finished up by saying, "I'm on your side Shaq, don't ever let anybody tell you anything different."
A clearly emotional Shaq responded: "Listen, you not speaking to me was the best thing to happen to my career, because all I wanted to do was impress you sir. I will talk with you soon, inshallah and I love you very much. I will never ever have beef with the great Kareem Abdul-Jabbar. You ain't gotta worry about that."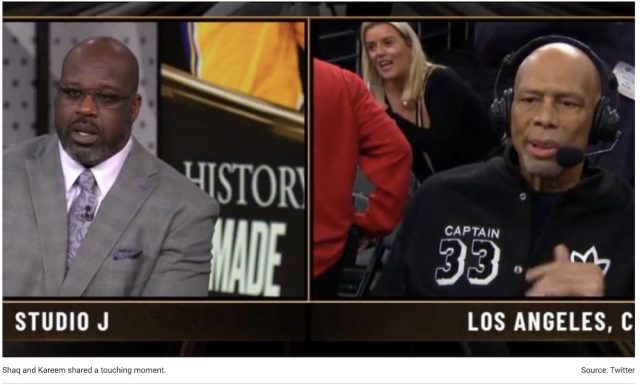 Abdul-Jabbar responded by telling O'Neal: "I love you too," with O'Neal again fighting back tears.
What a night! Definitely one for the all-time NBA video archives. Meanwhile, let's see how many more points King James can add to his all-time scoring record.