Yes, the Super Bowl Game has come and gone, and it seems like every year, there's controversy – or at least strong opinions – about the halftime show. This year's show featuring star performer Rihanna was no exception. 
For those who don't know, fans of the singer are known as the Rihanna Navy. We're not sure why, but there it is. O'Neal is definitely part of the Rihanna Navy — and like any good crew member, he's not letting criticism of her halftime show go unchallenged. 
On his latest edition of The Big Podcast with Shaq, the four-time NBA champ was blunt as usual in talking to those who didn't like the show. Shaq said they should "shut the f— up" about her Super Bowl performance.
Shaq with some interesting thoughts: "All you people disrespecting Rihanna, shut your face. Shut it up. We living in a world where people got too much freedom, keep your f–ing thoughts to yourself."
He added, "She did a wonderful job. She's pregnant, she blessed it, she did her thing, she didn't fall. Just leave it there. All you superstars that's disrespectful and causing beef, shut your face."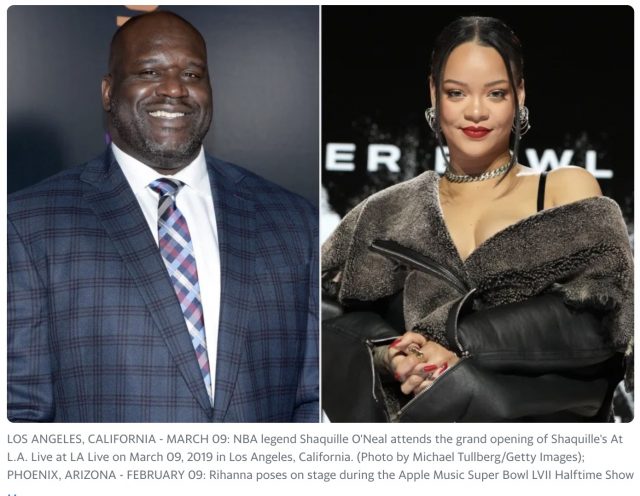 O'Neal said that this was actually the first time he's seen Rihanna live, even though he's been a fan of hers for years. Shaq said the singer did a "great job," and that people who were critical of her show were doing it from behind their Twitter screens. Even though there's nothing personal between the big man and Rihanna, Shaq said that if he was dating the nine-time Grammy-winning artist, he'd be looking to "get at" her haters.
Again, Shaq: "If she was my woman and I seen one of you superstars do that, I'm gonna have to get at you. Rappers. Presidential candidates. I'm gonna have to get at you. Leave her alone."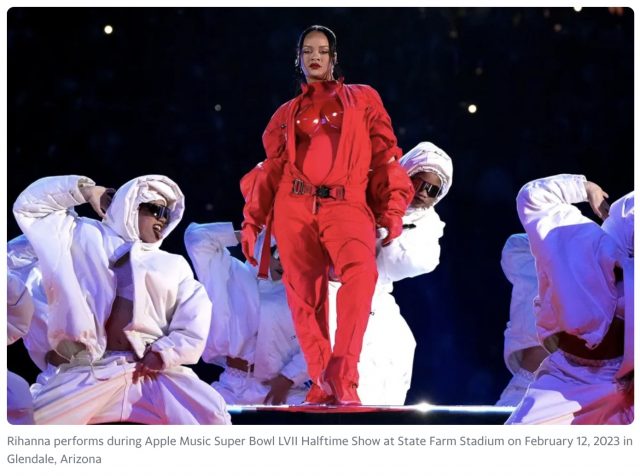 An interesting comment on "presidential candidates" for sure. He didn't come right out and say it, but the big man may have been referring to former President Donald Trump who issued a tweet that slammed the halftime show and called it "the single worst Halftime Show in Super Bowl history" Trump slammed Rihanna for – in his words – using "foul and insulting language."
Trump was probably still worked up over a 2020 photo showing Rihanna posing beside a spray-painted car that said "F— Trump." The singer has also been vocal about her disdain for Trump in addition to the photo.
She has also previously asked Trump to not use her music in his campaign or rallies after learning from a reporter that he played "Don't Stop The Music" at a rally in 2018. "Not for much longer…me nor my people would ever be at or around one of those tragic rallies."
What did you think of the halftime show? Comments always welcome.