It doesn't happen often, but the big man knows when he's wrong, and isn't afraid to apologize when necessary. That's just what happened this week as the big man said a big "sorry" to Phoenix Suns star Devin Booker.
On Inside the NBA this week, the crew reacted with positive vibes after watching the Phoenix Suns tie up their western conference playoff series with the Denver Nuggets with a 129-124 win. 
After the game, O'Neal came right out and said it, Phoenix star "I love the way you're playing."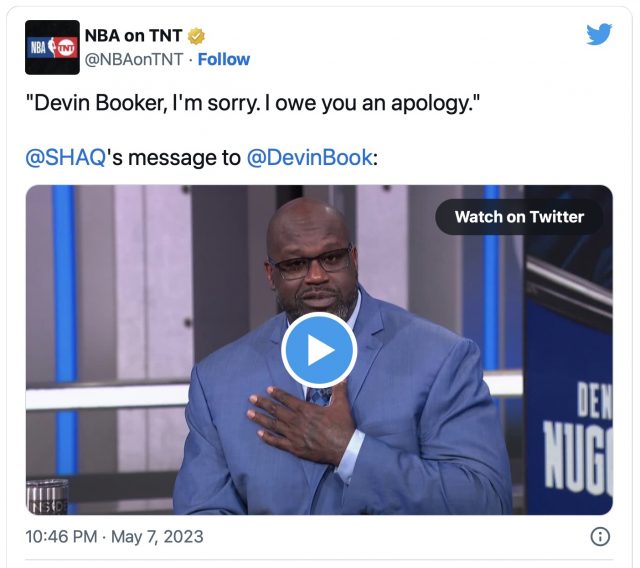 Shaq had been critical of Booker and his Suns teammates for their lackluster play against The Joker and the Nuggets. He and other critics pointed out what appeared to be a lack of energy from Booker and the rest of the team in general. If you saw the game earlier this week, you saw a very high-energy Suns team take it to Denver. The game was not as close as the score might have indicated. 
Booker did have a huge night in Game 3 last week. He poured in 47 points on 20-for-25 shooting from the field, but Shaq didn't think Booker would be able to duplicate that kind of performance. 
That, however, was not the case. In Game 4, Booker went 14-for-18 and scored 36, prompting Shaq to say:  I'm sorry…I owe you an apology. I got on TV and said you would not go 20-for-25 again. You messed around and went for 14-for-18 … so, sir, I apologize. I love the way you're playing."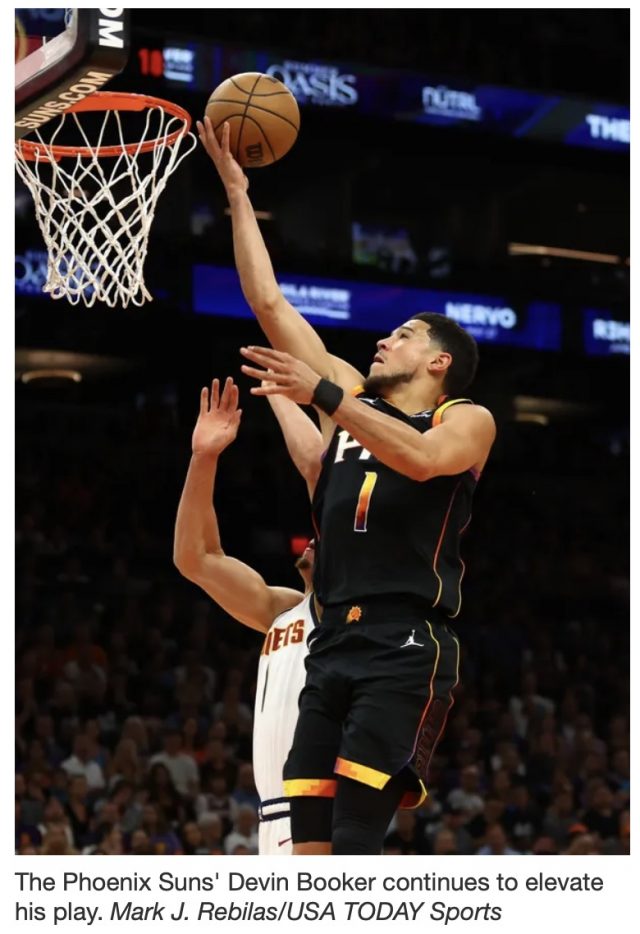 If that apology sounds familiar, it should. Shaq followed a similar script when he apologized to the Dallas Mavericks' Christian Wood, when he said "I owe you an apology. I wasn't familiar with your game." That was after Wood scored 27 points in a game against the San Antonio Spurs.
The Suns are playing strong basketball now. As of this writing, the series is tied at two games each. Booker hitting 79 percent of his shots over the past two games has certainly been one of the main power sources for the Suns. 
In Game 4, Kevin Durant added 36 points of his own, and Landry Shamet — who didn't even get on the floor in Game 2 — was the surprise third scorer without the injured Chris Paul, pouring in 19 points and five 3-pointers.
Now we've got a series, as the cliche goes. We'll see if Booker and teammates can continue their strong play against the top-seeded Nuggets.