The "Inside the NBA" crew never fails to entertain and impress – even when on location. Did you watch the Eastern Playoff Series game with the Heat and Celtics last night? (As of this posting date.) A fun interview with Kansas City Chiefs superstar quarterback Patrick Mahomes resulted in a couple different Shaq-related moments. 
After the NBA action, the TNT network is putting on a made-for-TV special featuring a golf matchup that will see Steph Curry and Klay Thompson (of NBA fame, of course), take on Mahomes and his fellow Chiefs star Travis Kelce. 
It's called "The Match," and will be played at the Wynn Resort in Las Vegas at the end of June. (BTW, tickets are available if you're going to be in Vegas at the time.) Should be a lot of fun. On Inside the NBA, Kenny Smith did his best golf-announcer voice to talk about it. Sounded pretty convincing! (But Jim Nance has nothing to worry about…) 
So on the broadcast, Mahomes joined live, through what looked like a Zoom call from his home. In talking to the star QB, Shaq asked a question or two – probably wanting to look all smart and sports-savvy. That didn't work out so well! 
As O'Neal made the gaffe, it turned into an embarrassing moment…and one that Charles Barkley couldn't help but make the most of. Thankfully, the Big Man is usually OK with being on the receiving end of the joke.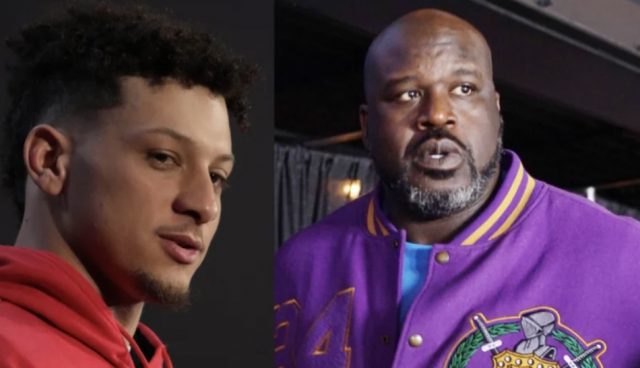 Check out the video of the interview below. If you're in a hurry, scroll to the 1:11 mark for the gag that happened during the conversation with Mahomes. 
Shaq: "Patrick (Mahomes), I know you're going to come home with the trophy. I don't even play golf and I beat Charles Barkley by 4-5 *unintelligible*. I know he got a new coach and a new swing. But trust me, you've got nothing to worry about."
Chuck: "I'm not playing, he's playing the Splash Brothers (Stephen Curry and Klay Thompson)…Fool!"
Shaq: "Oh, my bad… brainfart.com!"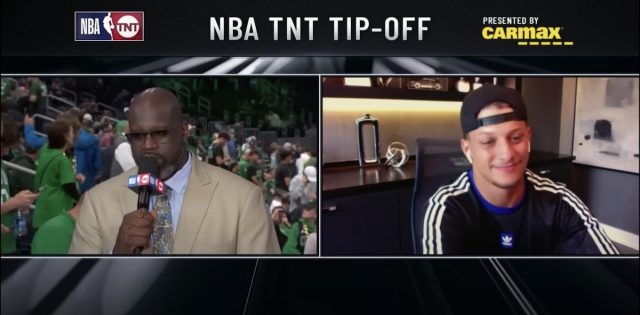 Here's the full video: https://youtu.be/M0VF9ywlSAE
Of course history fans know that Sir Charles has played in similar events in the past. The good news is that his game on the links is vastly improved. He was so bad (how bad was he?) that videos of his (attempted) swings were golf-meme jokes of the highest order, back in the day. 
Back in 2020, he and pro Phil Mickelson beat Steph Curry and former NFL superstar quarterback Peyton Manning. Mahomes has played in similar events too. He lost a hard-fought round against NFL GOAT Tom Brady.
Still, the on-air interview with Mahomes went well, overall. There was talk about his recovery from an ankle injury back during the NFL season. He's doing well, thank you. Now it only remains to be seen if he's upped his golf skills to take on the dynamic duo from the Golden State Warriors. Can't wait to see it!