Teams from the USA usually dominate world-wide competitions. Events like the Olympics and the FIBA World Cup usually serve as good showcases for American superstars, as well as a smattering of international talent. This year, things were, shall we say, a bit different.
This NBA offseason saw the 2023 FIBA World Cup, and things turned out very differently. Germany knocked out Team USA and eventually went on to take the World Championship against Serbia. That led to some behind-the-scenes questioning of the USA teal selection. Now those questions about team selection are out in the open. 
Next up on the world stage is the summer Olympic games, coming next summer in Paris. LeBron James has already expressed interest in leading Team USA. It was James who said it was "shameful" that Team USA lost to Canada in the 3rd place game in the FIBA tournament. 
Meanwhile, other players are getting into the discussion as well, including Dwight Howard and our man Shaq. Imagine that! In a post on social media, Howard said he wanted to be included on Team USA in Paris. As usual, seeing Howard online got a response from O'Neal. He saw what Dwight put up and shared it on his Instagram story.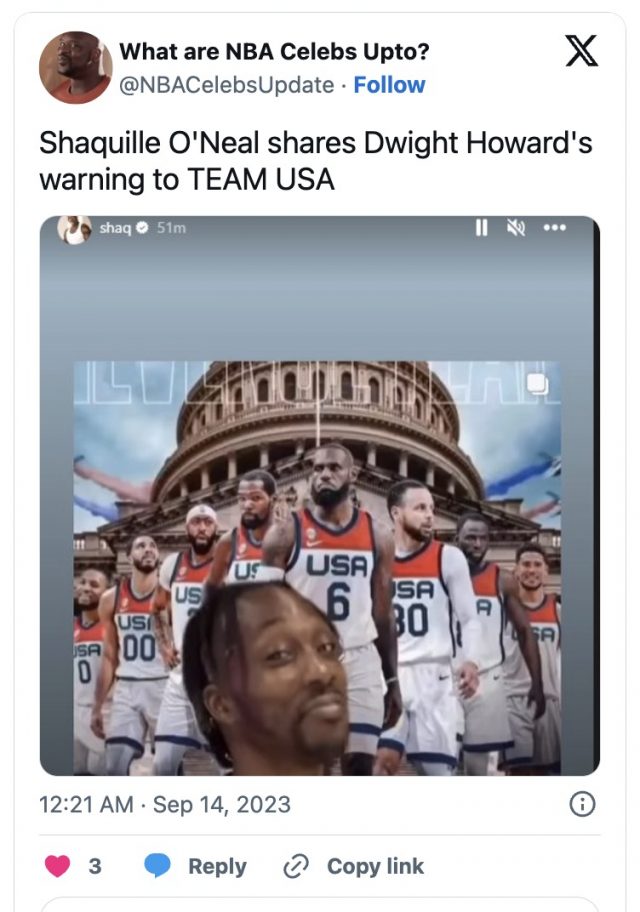 As posted by our friends on TheSportsRush.com, Dwight Howard and LeBron James have quite a lot of history together. They've been Olympic teammates in the past. On the Redeem Team, as well as the 2009 ECF Matchup…and of course winning a championship together with the Lakers in 2020. 
After Team USA lost to Canada this week (as of this post), Dwight Howard took a break from recruiting people to Taiwan and instead tried to recruit them to Team USA. However, it seems most of that lineup is already set, so Howard started his own little campaign to make sure he was interested in being on the team, too. 
Meanwhile, our man O'Neal has also got some strong ideas on players for the Olympic team. After the loss to Canada, Shaquille O'Neal shared a post that highlighted his best squad. The starting lineup would consist of Stephen Curry, Devin Booker, LeBron James, Kevin Durant, and Anthony Davis. The bench is also filled with stars: Damian Lillard, Anthony Edwards, Jimmy Butler, Jayson Tatum, Bam Adebayo, Aaron Gordon, and Paul George.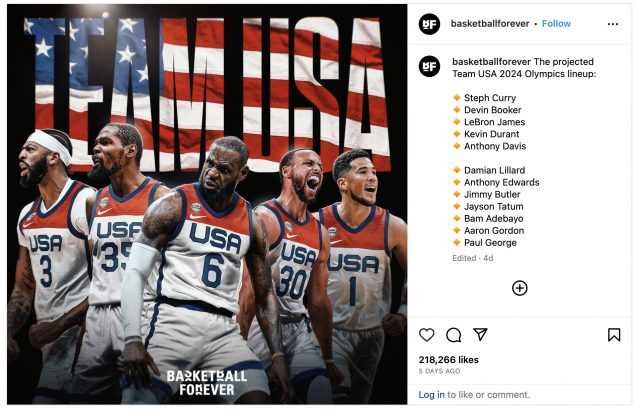 Apparently Howard felt left out. He put up a post reacting to the squad and captioned it saying, "I like what I see 💪🏾but don't leave ya boy out🤔 …if ya leave me out I'm playing with Taiwan and I'm dropping 84."
That of course referred to Dwight's 84-point game Dwight had in Taiwan, which raised a lot of eyebrows back home. By the way, claims of an 80+ game have not been confirmed. Just a tall tale? We may never know. 
Shaq's lineup would indeed be awesome. Could it happen IRL? Hard to say. Here's a great – and real – stat: Salaries for the dream lineup (starters only) would be in the neighborhood of $222,546,678 in the upcoming NBA season. In comparison, the entire lineup at the 2023 FIBA WC – ALL the other teams from around the world – was about $204,000,000. Will the big names appear in Paris? We'll find out…