Last week here on the ShaqFu Radio blog, we had a post about Shareef O'Neal being cleared via NCAA waiver to play right away at Louisiana State University – LSU. Shareef has been cleared to play. The 6-foot-10 forward requested a waiver from the NCAA to be immediately eligible and not have to redshirt, despite not leaving UCLA's team until mid-January.
Shareef needed the waiver, since he had transferred to his fathers' alma mater from another school, and that normally requires a sitting-out period. But with the waiver, the young O'Neal was cleared to play, which he did in the first game of the season. 
What we didn't know at the time was the story of one very special fan that was in attendance at the game… a game where not a lot of other real live human fans were allowed in the building. That fan: Shaq, of course! 
NBA great and former LSU player Shaquille O'Neal was spotted in the bleachers of Pete Maravich Assembly Center for the Tiger's home opener of the season against the Southeastern Louisiana Lions this past Monday night (as of this writing). 
LSU tweeted a photo of the basketball star dressed in Tigers gear and seated in the arena shortly before the matchup against Southeastern on Monday evening.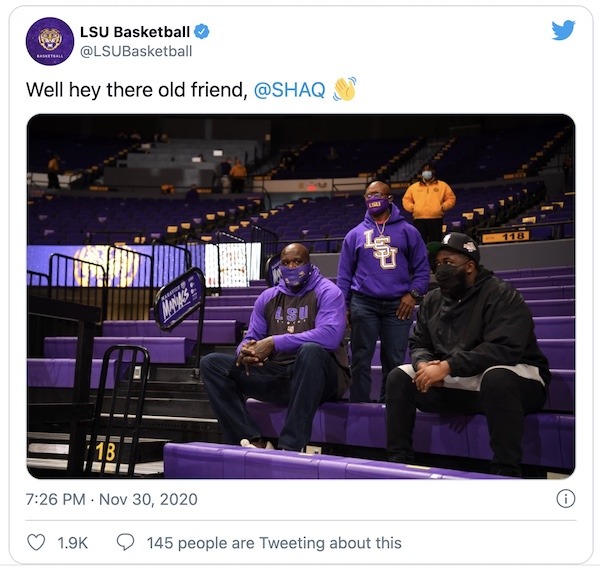 In the home opener, Shareef O'Neal played 19 minutes, scored 5 points and had 9 rebounds. The game ended up in a rout, with LSU beating the Tigers by better than double, 96-43.  
Previously, ShaqFu Radio has posted about O'Neal's choice of jersey number, and how it's a great tribute to his friend and mentor Kobe Bryant, and also his father at the same time. Check out that post here: https://shaqfuradio.com/2020/11/27/shareef-honors-dad-kobe-with-lsu-jersey/